UCI MTB World Cup in XCO and DHI
1. Qu'est-ce qu'un cookie ?
Un cookie (ou témoin de connexion) est un ensemble de données stocké sur le disque dur de votre terminal (ordinateur, tablette, mobile) par le biais de votre logiciel de navigation à l'occasion de la consultation d'un service en ligne.
Les cookies enregistrés par nous ou par des tiers lorsque vous visitez nos sites et applications ne vous reconnaissent pas personnellement en tant qu'individu, mais reconnaissent seulement l'appareil que vous êtes en train d'utiliser. Les cookies ne stockent aucune donnée personnelle sensible mais donnent simplement une information sur votre navigation de façon à ce que votre terminal puisse être reconnu plus tard.
Les cookies ne causent aucun dommage à votre appareil, mais permettent plus facilement par exemple de retrouver vos préférences, de pré-remplir certains champs et d'adapter le contenu de nos services.
Vous seul(e) choisissez si vous souhaitez avoir des cookies enregistrés sur votre appareil et vous pouvez facilement contrôler l'enregistrement des cookies. Pour une information spécifique sur la gestion et le contrôle des cookies, veuillez-vous référer à la rubrique 3. Vos choix concernant les cookies.
2. Quels sont les cookies presents sur nos sites et applications ?
2.1 Les cookies fonctionnels
Les cookies fonctionnels que nous émettons nous permettent :
d'adapter la présentation de nos sites, applications et espaces publicitaires aux préférences d'affichage de votre terminal (langue utilisée, résolution d'affichage, système d'exploitation utilisé, etc), selon les matériels et les logiciels de visualisation ou de lecture que votre terminal comporte ;
de faciliter vos recherches en conservant vos recherches automatiques et vos annonces sauvegardées ;
d'améliorer votre expérience utilisateur en pré-remplissant certains champs de nos formulaires
2.2 Les cookies de statistiques (ou analytiques)
Les cookies analytiques que nous émettons nous permettent de mieux connaître nos sites et applications et d'améliorer nos services en établissant des statistiques et volumes de fréquentation et d'utilisation (rubriques et contenus visités, parcours…).
2.4 Les cookies émis par des tiers
Lorsque vous visitez nos sites et applications, certains cookies ne sont pas enregistrés par nous mais par des tiers partenaires pour la diffusion de publicité ciblée. Pour plus d'informations sur les cookies enregistrés par nos partenaires, nous vous suggérons de visiter leur site.
Google : https ://www.google.fr/intl/fr/policies/technologies/cookies/
3. Vos choix concernant les cookies
Il est important de noter que tout paramétrage que vous pouvez entreprendre sera susceptible de modifier votre navigation sur Internet et vos conditions d'accès à certains services nécessitant l'utilisation de cookies.
Si vous refusez l'enregistrement de ces derniers dans votre terminal, ou si vous supprimez ceux qui y sont enregistrés, vous ne pourrez plus bénéficier d'un certain nombre de fonctionnalités qui peuvent être nécessaires pour naviguer dans certains espaces de nos Sites et Applications.
Vous pouvez faire le choix à tout moment d'exprimer et de modifier vos souhaits, par les moyens décrits ci-dessous :
3.1 Les choix qui vous sont offerts par votre logiciel de navigation
Vous pouvez configurer votre logiciel de navigation de manière à ce que des cookies soient enregistrés dans votre terminal ou, au contraire, qu'ils soient rejetés. Certains navigateurs vous permettent de définir des règles pour gérer les cookies site par site.
Pour la gestion des cookies, la configuration de chaque navigateur est différente. Elle est décrite dans le menu d'aide de votre navigateur, qui vous permettra de savoir de quelle manière modifier vos souhaits :
Pour Internet Explorer™ : https ://support.microsoft.com/en-us/help/17442/windows-internet-explorer-delete-manage-cookies
Pour Safari™ : https ://www.apple.com/support/ ?path=Safari/3.0/fr/9277.html
Pour Chrome™ : https ://support.google.com/chrome/answer/95647 ?hl=fr&hlrm=en
Pour Firefox™ : https ://support.mozilla.org/fr/kb/activer-desactiver-cookies
Pour Opera™ : https ://help.opera.com/Windows/10.20/fr/cookies.html
Sours: https://www.worldcuplesgets.com/en/
3 to 5 September 2021
Mercedes-Benz UCI Mountain Bike World Cup
BIKE KINGDOM GAMES
This summer, Lenzerheide will once again become a mountain bike hotspot. On 3 to 5 September 2021, the Mercedes-Benz UCI Mountain Bike World Cup will take place with the disciplines Short Track Cross-Country Olympic and Downhill.
A maximum of 10,000 spectators are permitted for the spectacle. Tickets can only be purchased online.
The Bike Kingdom App for Visitors
The Bike Kingdom App is your guide through the bike Kingdom Games and provides you with all the information you need before and during the event. Click here to download.
Tickets & Information
Tickets and further information on the Mercedes-Benz UCI Mountain Bike World Cup Lenzerheide 2021
Sours: https://www.bikekingdomgames.ch/en
This is the 2022 UCI MTB World Cup calendar
The UCI have provisionally released the calendar for the 2022 Mercedes-Benz UCI Mountain Bike World Cup season. The headline news to take away from the calendar is that there will be 11 stops across three continents in Europe, North America and South America. There will be eight rounds of downhill competition and a bumper nine rounds of cross-country racing.
For the cross-country elite, there's a whole new location in Petropolis, Brazil. The city, which is north of the capital Rio de Janeiro, is of course home to one of the world's leading cross-country riders: Henrique Avancini. Avancini was born in Petropolis and still bases his off-season training there.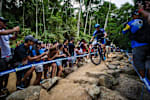 Also of note is that Lourdes sees a return to the World Cup calendar as a downhill-only round. The French town last hosted a World Cup race in 2017. The location for a dual round featuring both downhill and cross-country that is due to take place between July 8-10 has yet to be confirmed. The World Championships for both disciplines take place in France in Les Gets.
2022 UCI World Cup and World Championship calendar
March 26-27: Lourdes, France (DH)

April 8-10: Petropolis, Brazil (XCO/XCC)

May 6-8: Albstadt, Germany (XCO/XCC)

May 13-15: Nové Město, Czech Republic (XCO/XCC)

May 21-22: Fort William, UK (DH)

June 10-12: Leogang, Austria (DH/XCO/XCC)

July 8-10: TBC (DH/XCO/XCC)

July 15-17: Vallnord, Andorra (DH/XCO/XCC)

July 29-31: Snowshoe, USA (DH/XCO/XCC)

August 5-7: Mont-Sainte-Anne, Canada (DH/XCO/XCC)

August 24–28: UCI Mountain Bike World Championships – Les Gets, France

September 2-4: Val di Sole, Italy (DH/XCO/XCC)
How to watch the Mercedes-Benz UCI Mountain Bike World Cup
Every round of the Mercedes-Benz UCI MTB World Cup will be available to watch on Red Bull TV until the end of the 2022 season. There is live coverage of downhill (DH) and cross-country (XCO) finals from every round.
At DH-only rounds, finals will be on a Sunday of a weekend. For dual-rounds, DH finals will be on Saturday with XCO finals on a Sunday.
Commentary of the races on Red Bull TV will be available in several languages depending on where the the round is taking place. English will always be the default language used but there's been commentary of races in the past in Spanish, German and French.
Red Bull TV is available to watch online via your browser, through the Red Bull TV app (on most devices) or on a smart TV.
Sours: https://www.redbull.com/ke-en/uci-mtb-world-cup-calendar
The First Winning Runs of 2021 - UCI Downhill MTB World Cup Leogang
Second slap in the face. - You, creature, did not hear the question again ?. What is this sudden deafness.
2020 uci downhill
'' Vitek replied to me, though not quite confidently, apparently my brother doubted that he would cope with Baba Zoya. my back and you Vitek, you will water with water. - grandma stood with her back to us when my brother and I entered the bathhouse. I did not turn off the generator and in the light of the bulb through the steam, my brother and I could clearly see the.
Are These The 5 Craziest Downhill MTB Runs From Leogang, Austria? - UCI MTB World Champs 2020
Oh, do you want this, darling. Well then I went to these handsome men. with these words, she defiantly smeared bright red lipstick on her lips and asked how much she looked like a shoulder strap, to which I replied.
You will also be interested:
Silently. I was lying on my side so I did not see him. he turned. raised my shirt. pressed tightly wrapped around my tummy.
11019
11020
11021
11022
11023