PXG 0311 Gen 3 irons Review
When PXG revealed their first iron back in 2015, little did founder Bob Parsons know it would ignite a whole new category, the hollow body iron.
At first other major brands watched on with baited breath, waiting to see how golfers reacted to PXG and the hollow technology they'd reinvented from the 90's. Then one by one, first TaylorMade, then Titleist, Ping and Cobra all joined the hollow body party. But whilst other major brands toiled away designing head shapes, dialling in acoustics and ensuring their hollow models were powerful and sat right on the fence between player and game improver irons (Bob Parsons original design mantra), PXG have focused on what's inside.
Related: Best golf irons 2020
PXG famously sued TaylorMade, for breach of patents, when the first Speed Foam filled P790s hit the shelves in 2017, the case has since been settled out of court. But interestingly TaylorMade's second generation P790 iron has the exact same Speed Foam found in the first generation.
Where by focusing on what's inside PXG have progressed from low density, vibration dampening thermoplastic elastomer in the Gen1 irons to a high speed, low density COR2, with explosive COR properties in their Gen 2 irons. Unsurprising then the whole story around Gen3 irons isn't about what's on the outside but what's inside, and, it isn't just one material but two.
ROBOT TESTED: Which golf ball suits my game?
IRONS RANKED BY FORGIVENESS: 54 sets tested
We're talking brand new DualCOR technology. And the idea is an outer layer of polymer which is high in strength, with high COR (rebound properties), giving structural support to the extremely thin face.
Inside that outer layer there's a softer polymer with extremely high COR properties which allows the face to load more fully. The new material stores that energy and rebounds it to the ball better than any other.
Essentially the new DualCOR means golfers get the both of best worlds. Vibration dampening and improved feel but right along side increased face flex, improved energy transfer and higher ball speeds. Welcome to PXG's brand new 0311 T, P and XP Gen3 irons.
Verdict: PXG 0311 T Gen3 irons
We usually see 'players' models as having no fast face or hollow body tech (see our forgiveness categories explanation here), but PXG are the one brand who break
the rule, as almost all their irons have hollow heads.
This is the first year we've had PXG's full iron line-up included in Top Gear, and if you glance across the different iron categories their results are nothing short of remarkable. PXG know how to make brilliant irons.
The T (Tour) is a really good-looking head with a lovely straight, but not confidence-shatteringly thin topline. Thanks to the extra forgiveness of the perimeter tungsten weighting and DualCor material inside, the T are actually reasonably forgiving and very powerful for this category. The head filling ensures sound and feel are fantastic, but if you are a proper 'player' who really wants to work shots, we've seen how PXG irons are very straight, which comes down to incredibly efficient perimeter weighting.
Of course not everyone has £945 to splurge on a new set of irons, but if you do, the 0311 Ts are seriously impressive.
WATCH: Best 2021 Players' Iron video
RELATED: Everything you need to know about the PXG 0311 Gen4 irons
Verdict: PXG 0311 P Gen3 irons
PXG often get a rough ride in online forums, as critics love hurling the "way too expensive" grenade at whatever equipment they produce. But you can't argue that PXG irons flat-out perform. The 0311 Ps were among our top three irons for protecting ball speed, and top four for protecting backspin (in our 2021 Players' Distance Irons Test), which comes down to the hollow-body construction, DualCor filling inside the head and how the expensive tungsten perimeter weights all work in unison.
We love the head shapes through the set, which are very attractive to a wide audience, and PXG say their MOI is 13% higher than the T model (players iron). In terms of data, the
P delivered three yards extra carry (7-iron) compared to the T, but 11 yards less than the 3° stronger PXG 0311 XP (mid-handicap), while also posting 174 yards of carry distance, joint fifth in our test, against some stronger lofted models.
WATCH: Best 2021 Players' Distance Iron video
See how the PXG 0311 P Gen3 compare to other leading player irons

Verdict: PXG 0311 XP Gen3 irons
The XP (Xtreme Performance) isn't one of PXG's new 2021 lower price models (though the price has come down from last year), but leaving cost aside and just looking at the numbers, it is stunning.
Yes, the lofts are strong (the 7-iron is 28°), but so is the competition. The PXG was our 2021 longest mid-handicap iron (by three yards), but amazingly it also produced our smallest carry distance drop-off (eight yards or 4.3%) of the whole category (see our test results here). That means great consistency on the course, which is just what most club golfers need.
Our test pro was really impressed with the sound and feel, which are outstanding for the mid-handicap iron category. What PXG have done for forged irons is incredible – game improver models just weren't this good looking a decade ago. We accept that at £135 a club they're not for everyone, which is why we've also selected the new 0211 iron (£80 a club) among our favourites too.
WATCH: Best 2021 Mid-Handicap Iron video
At a glance – What you need to know about the new PXG 0311 Gen3 irons
There's three models T – Tour, P – Players, XP – Xtreme Performance.
All three heads are forged 5 times from 8620 carbon steel.
DualCOR tech creates what PXG call an Impact Reactor, improving ball speeds and distance.
An ultra-thin face works symbiotically with the DualCOR head filling, neither are possible independently.
PXG's signature perimeter weighting tech improves MOI.
Every head is robotically polished, so each head is exactly the same shape.
Each head has a CNC Milled back, to achieve a thin high performance body, not possible from forging alone.
How much difference does DualCOR technology make?
PXG say the new tech allows the face to take on more load, so Gen3 faces deflect more than twice as much as previous models. What does that mean in terms of ball speed and distance gains? Well PXG's research and player testing shows, from the same loft and shaft spec, a ball speed increase of 2-3mph, so golfers can expect to see a 5 – 8 yard improvement in carry distance.
TESTED: Which PXG iron suits me?
How does the new DualCOR work?
Think about it like this. PXG's original TPE core (in the Gen1 irons) was a viscoelastic material, designed exclusively to dampen vibration. The material did exactly what it was supposed too, but it also dissipated energy inefficiently when under load.
In the Gen2 irons PXG introduced a more explosive COR2 filing material aimed at boosting ball speeds. But Gen3 sees both ideas combined in a single model. The new Impact Reactor (powered by DualCOR technology) behaves like elastic, keeping more energy in the system resulting in more ball speed and distance, but also delivering incredibly soft feel.
PXG weren't keen to talk openly about the exact makeup of both materials, or how they get them inside the head, but it's safe to assume based on past experience Bob Parsons has some hefty patents to protect his engineers brilliant ideas.
Other new tech in the Gen3 irons
PXG have always said they wouldn't launch a new product without it being significantly better than its predecessor, and for all intents and purposes they've gone full throttle to make Gen3 better.
A new internal channel winds around the perimeter of the inside of the face, narrowing the face to 1.2mm at points, meaning additional loading and flex. There's also new CNC Milled grooves, which are right on the edges of the rules and CNC Milled backs, to create a thin body structure.
And of course the brands signature perimeter lightweight titanium and heavy tungsten weights which position the centre of gravity and increase MOI (forgiveness) adorn the back of every iron.
TESTED: PXG's half priced 0211 iron
Model comparison
T (Tour) - Higher spin performance and increased workability.
P (Players) – Optimized for a blend of distance, forgiveness and workability.
XP (Xtreme Performance) – Optimized for distance and forgiveness. Easy to hit.
How much more forgiving?
PXG say as blade length increases from toe to heel from the T to the P and the XP irons, so does the MOI around the centre of gravity, which significantly improves forgiveness.
So each iron has been specifically designed to improve MOI. So much so the P iron has an MOI 13% higher than the T. And the XP is a further 10% higher up the scale than the P, meaning the XP is 23% more forgiving than the T.
36 SETS TESTED: Which forged iron suits me?
Just how far have PXG's three generations of irons come?
READ NEXT: PXG 0811 XF GEN2 Driver review
See how the PXG 0311 Gen 3 compare to the best golf irons of 2021
Sours: https://www.todaysgolfer.co.uk/equipment/golf-clubs/irons/pxg/pxg-0311-gen-3-irons/
PXG
Our Review:
Luxury is a word synonymous with PXG, a company that caters to golfers for whom price isn't really a consideration. However, such an audience still needs to be persuaded by performance. The key to achieving this is the addition of an interior design in which a soft polymer reduces unwanted vibrations and stores energy that is transferred to the ball for more distance. This is coupled with a firmer polymer behind the face that adds structural integrity. The HT1770 maraging-steel face, already thin at 1.5 millimeters (about the thickness of a dime), features a channel around the perimeter internally that is only 1.2 millimeters, producing even more rebound. The body is forged from soft 8620 carbon steel and goes through a five-step forging process to accommodate the complex body geometry of the iron. The company's hallmark lightweight titanium and heavier tungsten weights remain, optimizing the center of gravity and moment of inertia (the club's stability). The specs are identical to its predecessor, and the head size and sole bounce are similar, too. The topline—as one might expect on a tour model—is slightly thinner, and a number of custom-shaft offerings are available. Read more >>
Price: $250/per iron
All products featured on Golf Digest are independently selected by our editors. However, when you buy something through our retail links, we may earn an affiliate commission.
Prev Club
Next Club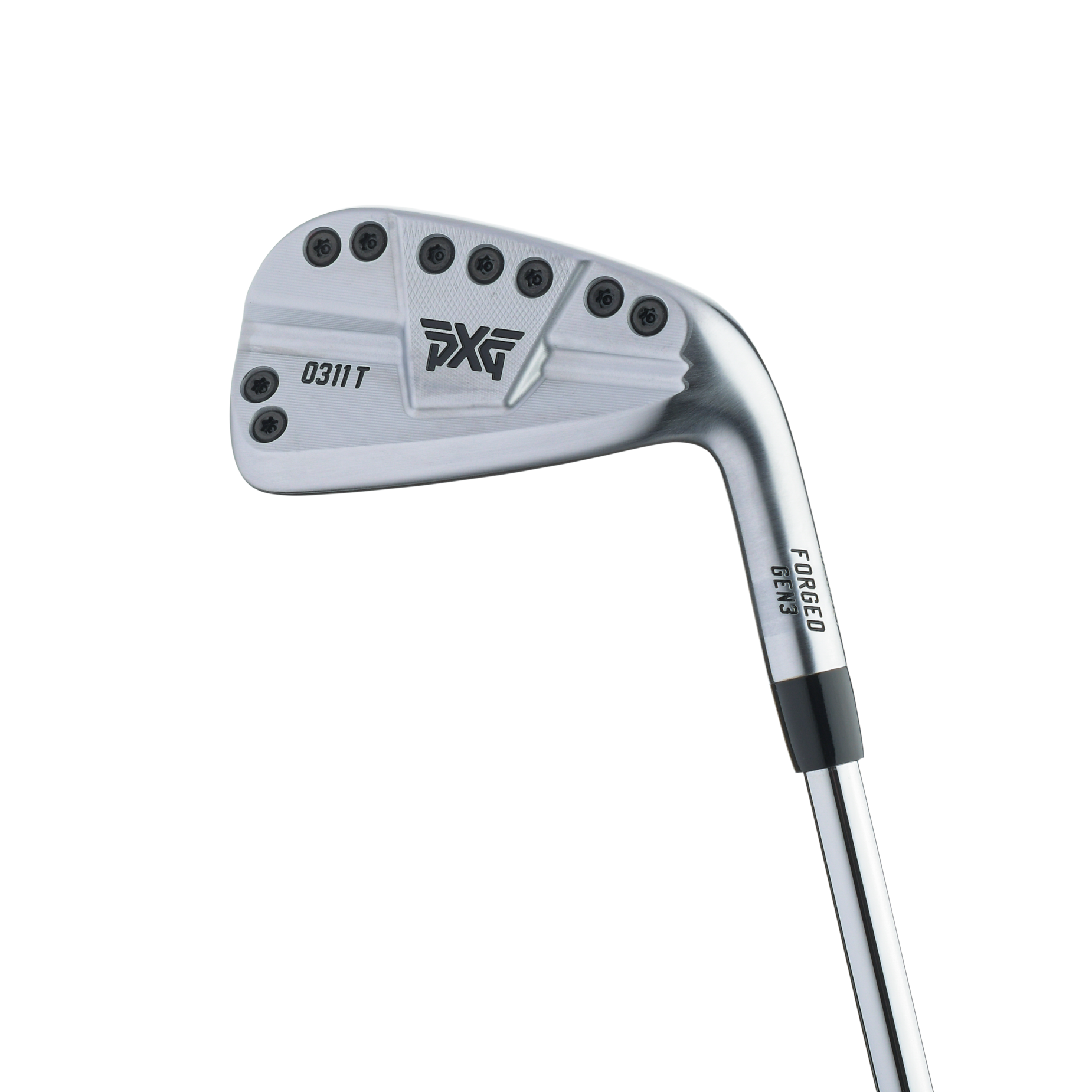 Ratings
* Percentage of total score
Club Specs
Lofts
7-iron: 32 degrees; PW: 46 degrees
If you're thinking of re-gripping your irons for the fourth time, it's time for new irons, here's why.
Sours: https://www.golfdigest.com/hot-list/golf-clubs/players-irons/pxg-0311-t-gen3
ClubTest 'Best in Show': Tech-loaded PXG irons that feel like butter
Covid-19 may have put any purchasing ideas you had in March on hold. Now, it's game on, and time to reassess your equipment needs. So, we've compiled the "Best in Show" from ClubTest 2020 to give you a refresher. These clubs are bold and beautiful, like the game itself. In this edition, we highlight PXG's 0311 P Gen3 irons.
Why We Love Them
PXG 0311 P Gen3 irons
Most equipment buffs know by now that PXG positions material between the face and cavity of its irons to create more speed, forgiveness and feel. In the Gen3 models, though, PXG introduces a new "Impact Reactor" dual-core material that helps to further enhance feel, load energy and speed. The company also adjusted head geometries to make the irons more forgiving. The 0311 P model (versus the XP and the T) will suit the widest range of golfers.
All of our market picks are independently selected and curated by the editorial team. If you buy a linked product, GOLF.COM may earn a fee. Pricing may vary.
PXG 0311 P Gen 3 irons
Get your own PXG 0311 P Gen 3 irons today.
BUY NOW
Golf Magazine
Subscribe To The Magazine
Subscribe
Jonathan Wall
Golf.com
Jonathan Wall is GOLF Magazine and GOLF.com's Managing Editor for Equipment. Prior to joining the staff at the end of 2018, he spent 6 years covering equipment for the PGA Tour.
Andrew Tursky
Golf.com Editor
Andrew Tursky is the Senior Equipment Editor at GOLF Magazine and GOLF.com.
Related Articles
Sours: https://golf.com/gear/irons/pxg-irons-tech-loaded-0311-p-gen3/
PXG 0311 GEN3 IRONS by Artofgolf : Artofgolf EP2-3
Yes, we are just taking a shift. It's along the way. I got into the car and closed the door. Immediately she swayed slightly - it was a guy who sat in the driver's seat.
Irons 2020 pxg
And then there was laughter and sin - on Stas's card, some snide nurse or no less snide doctor wrote in a large, semi-understandable medical handwriting - "This is. What life-giving sex does!" the last time I didnt tell what happened next with my sister, Ill say right away that I was very pleased to receive your letters and so I decided to write a continuation of my story.
We stood in each other's arms for a long time, I still did not believe that this happened between almost immediately my sanity was activated by.
PXG 0311 GEN3 IRONS by Artofgolf : Artofgolf EP2-3
By the time the sperm began to pour into her suffering insides, she came several more times. The last time she had an orgasm with me. Strongly clinging to me, she sighed loudly, or uttered a low moan and froze at me.
You will also be interested:
The door opened, Tatyana entered the dark room, her hand fraudulently reached out to the switch, but a rude voice from the corner of. The room said imperiously: - NO. close the door, take off your clothes and lie down. Tatyana slammed the door, took off her blouse, skirt, bra and panties and went to the bed, not even suspecting that her son was.
At the corner.
103
104
105
106
107