Ideal WeatherProof Wire Connector
s

IDEAL WeatherProof Wire Connectors are suited for interior and exterior electrical connections exposed to rain or damp conditions.
IDEAL WeatherProof Wire Connectors are designed to excel in above grade, interior/exterior connections exposed to damp/wet and corrosive environments.
In many cases, traditional twist-on wire connectors are not suitable for these applications and require additional materials like heat shrink, resin packs, and tape to ensure a safe connection.
IDEAL WeatherProof connectors eliminate the need for these additional materials and provide a safe, durable and long-lasting connection in these harsh environments in one easy step.
It all adds up to valuable savings in time, money and energy.
Features:

Silicone-based sealant protects against moisture and corrosion
UL listed to 486D for use in damp/wet locations
Easy to apply pre-filled twist-on wire connectors
3 models handle wire sizes from #22 to #6 AWG copper conductors
Swept-wing design for comfort and greater leverage
Live-action, square-wire spring
Hexagonal shape allows connectors to be applied with standard nutdriver
No pre-twisting required
Shell rated for 105° C


Applications:

Exterior area and security lighting
Outdoor power outlets
Decorative patio & deck lighting
Marine shore-power and dock lighting
Traffic-signal control circuits
Outdoor signage
Basement, garage, and car-port circuits
Bathroom/spa vent fans
Automatic carwashes
Industrial hosedown/washdown
Note: For Use on Copper Wire Only. Do Not Use on Aluminum Wire. - One Time Use Only - Do Not Reuse Connector. - Not for Use in Continuous Submersion Applications

Listed Wire Combinations
California residents see Prop 65 WARNINGS
Orders over $300 ship FREE to 48 States

Model 61 Gray/Orange
150 pcs
Jar
WeatherProof Wire Connector, 61, Gray/Orange, 150/Jar
ID-30-1261J
1000 pcs
Carton
WeatherProof Wire Connector, 61, Gray/Orange, 1,000/Carton
ID-30-1361
Model 62 Gray/Red
100 pcs
Jar
WeatherProof Wire Connector, 62, Gray/Red, 100/Jar
ID-30-1262J
1000 pcs
Carton
WeatherProof Wire Connector, 62, Gray/Red, 1,000/Carton
ID-30-1362
Model 63 Gray/Dark Blue
50 pcs
Jar
WeatherProof Wire Connector, 63, Gray/Dk. Blue, 50/Jar
ID-30-1263J
1000 pcs
Carton
WeatherProof Wire Connector, 63, Gray/Dk. Blue, 1,000/Ctn
ID-30-1363

California residents see Prop 65 WARNINGS

Related:
Ideal UnderGround Below Grade/Direct Burial Wire Connectors -

IDEAL UnderGround Wire Connectors are specifically designed to secure and protect wire connections in a wide variety of wet location/direct burial applications.

Silicone-based sealant protects against moisture and corrosion
UL listed to 486D for use for direct burial
Easy to apply pre-filled twist-on wire connectors
Handles wire sizes from #20 to #6 AWG copper conductors
Live-action, square-wire spring
No pre-twisting required - more


Ideal / Buchanan Wire Connectors
Spin-Twist Wire Connector Socket -

For Wire-Nut, Wing-Nut, Twister, B-CAP, WingTwist and other Wire Connectors

Features:

Speeds installation of Wing-Nut Connectors
Fits 1/4" chuck or drive socket
For use with electric corded or cordless drill drivers

Nut Blaster Universal Wire Connector Tool -

2 Sizes - fits all brands of Yellow, Tan, Red, Large Gray and Blue Twist on Wire Connectors!

Prevents Sore Fingers and Cramping Hands
Fast, Easy Installation
Works in all quick release adapters, Power Screwdrivers and Drills
Made in USA - more


Twist-a-Nut Combo Pack

Twist-a-Nut
Conduit Deburring Tool

21-in-1 Twist-a-Nut
Ratcheting Screwdriver
---
>> Tools for Electricians <<

30-1161, 30-1261J, 30-1361, 30-1162, 30-1262J, 30-1362, 30-1163, 30-1263J, 30-1363
ID-30-1161, ID-30-1261J, ID-30-1361, ID-30-1162, ID-30-1262J, ID-30-1362, ID-30-1163, ID-30-1263J, ID-30-1363
Sours: https://www.licensedelectrician.com/Store/ID/WeatherProof-Wire-Connectors.htm
Electrical Wire Nuts for Splicing and Grounding Wires
In old installations, wire splices often were covered with thick electrician's tape. That is not only a slow way to cover a splice but also a code violation. Cover every splice with an approved wire nut.
Assemble a collection of various-size nuts so you are ready for any splice. Wire nuts are color-coded according to size. The colors and sizes may vary according to manufacturer. Read the packaging to make sure the nuts you buy fit over your splices.
Smallest Wire Nuts
The smallest wire nuts — which usually come with light fixtures — are often white, ivory, or blue. If these have plastic rather than metal threads inside, throw them away and get orange connectors with metal threads for a secure connection.
Orange Wire Nuts
Orange nuts are the next size up and can handle splices of up to two 14-gauge wires.
Midsize Yellow Wire Nuts
Midsize yellow wire nuts are the most common. Use them for splices as small as two 14-gauge wires or as large as three 12-gauge wires.
Red Wire Nuts
Red connectors are usually the largest wire nuts and can handle a splice of up to four 12-gauge wires.
Green Wire Nuts
Green wire nuts are used for ground wires. They have a hole in the top, which allows one ground wire to poke through and run directly to a device or box.
Gray Twister Wire Nuts
Gray twister wire nuts are designed to be all-purpose — they can handle the smallest to the largest splices. However, they are bulky and expensive.
B-Cap Wire Nuts
B-cap wire nuts are slim, which makes them useful if a box is crowded with wires.
Sours: https://www.bhg.com/home-improvement/electrical/guide-to-wire-nuts/
Choosing the Right Wire Nuts for Electrical Connections
While doing almost any kind of electrical wiring in your home, you'll likely run into wire connectors used to make a variety of different circuit wire connections for light fixtures, outlet receptacles, switches, and other devices. The most common type of wire connectors are little round little plastic caps, often called wire nuts, that twist over the bare ends of wires to make tight connections. Wire nut connections are reversible—they can be unscrewed in the future in the event that you need to replace any device.
Wire Connectors Are theBest
If you ever find wires joined with electrical tape, or the wires are twisted together and then wrapped with electrical tape, get rid of the tape and join the wires with wire nuts. Never use tape in place of wire nuts—it's simply not secure enough, and it's vulnerable to damage. Some people like to use wire nuts and wrap them with tape. This fine to do, but you probably won't find any wire nut manufacturers advising you to do it.
There are also push-fit-type wire connectors, which make very secure connections and are easy to use. But they are more expensive than wire nuts, and loosening them in the future when you need to remove a device can be more difficult.
How They Work
Standard wire nuts are roughly conical in shape and usually have ridges on their sides so your fingers can get a good grip. Some types have little side wings instead of ridges. Inside the plastic cone is a little square-cut spring that provides tension on the wires to hold them securely. As you tighten the wire connector by twisting it, the spring draws tighter around the wires. Variations on classic twist-type wire nuts include push-in wire connectors (you push the straight wire ends into holes), waterproof wire connectors (usually gel-filled to keep out moisture), and butt-splice connectors (for joining wires end to end).
How to Use Them
Always follow the manufacturer's instructions, as techniques vary by product. But here's the standard procedure:
Strip about 1/2 to 3/4 inch of insulation from the end of each wire, using a wire stripper. Be sure to use the right hole in the stripper so that you don't cut into the metal of the wire.
Hold the wires together, so their ends are aligned.
Fit the appropriate size of wire nut over the wire ends and push into the wires while twisting the nut clockwise. Twist until the nut is as tight as you can get it, and there is no bare wire showing below the nut. You can also give the nut a final short twist with a pair of linesman pliers if you feel the nut isn't tight enough.
Give each wire a little tug to make sure it is securely held by the nut. If a wire pulls out at all, remove the nut and start over.
Some people, including many electricians, like to twist the wires with lineman pliers in a clockwise direction before applying the wire connector. They feel that it makes for a more secure connection and may help keep the wires together in situations where vibration can possibly work the nut loose. In any case, it's best to follow the manufacturer's directions, which often does not include pre-twisting the wires together.
Tip:When joining a solid-copper wire to a stranded-copper wire, strip the stranded wire about 1/8 inch more than you do for the solid wire. The stranded tends to wrap around the solid wire when you twist on the nut, so the extra length helps make a strong connection. Before putting on the wire nut, align the wires so the edges of the insulation are even, and the stranded wire ends extend past the ends of the solid wire.
Sizes
Wire connectors come in different sizes and colors. The color indicates the size, quantity, and type of wires the nut can accommodate. The wrong size nut is one that is either too large or too small for the size and number of wires being connected. Either way, this means a weak connection, which is potentially dangerous (loose wires start fires). The packaging for all wire nuts includes a chart that tells you what color of nut to use with the wires you're connecting. For example, for a particular manufacturer, a gray nut may work for a minimum of two 22-gauge stranded wires up to a maximum of two 16-gauge solid wires. The next size up (perhaps a blue nut) may be suitable for two 22-gauge solid wires up to a maximum of three 16-gauge solid. Overlap in the sizing chart is common; just make sure you're within the range for the color you're using. Colors vary by manufacturer, so always consult the chart on the packaging.
Sours: https://www.thespruce.com/what-are-wire-connectors-1152349
How strong are wire nuts? Wire nut torture test.
How many 12 gauge wires are in a red wire nut?
Red Wing-Nut Commonly used to connect 3 to 4 #14 or #12 wires, or 3 #10.
Click to see full answer.

Then, how many wires can you put in a wire nut?
For example, for a particular manufacturer, a gray nut may work for a minimum of two 22-gauge stranded wires up to a maximum of two 16-gauge solid wires. The next size up (perhaps a blue nut) may be suitable for two 22-gauge solid wires up to a maximum of three 16-gauge solid.
Furthermore, how many 12 gauge wires can be connected together? The limit by code is 12 outlets per circuit. Choose the proper wing nut. The blue has a minimum of 3 #12 wires. Doesn'T say what the max is but 5 or 6 would be no problem.
Beside this, how many wires does a Marette have?
4 wires
Do you need to twist wires before wire nut?
With the exception of stranded wire, which we'll talk about below, it's important to make sure the ends of all wires are lined up before twisting on the wire nut connector. You don't have to twist the wires together before you screw on the connector.
Sours: https://askinglot.com/how-many-12-gauge-wires-are-in-a-red-wire-nut
Wire nut biggest
He'll need to use a pull box to house this
Splicing of wire that fat can't be done in a regular junction box due to the fact regular junction boxes are too small to let the wire be bent in conformance with bending radius specifications. Instead, what's needed is a NEMA rated (NEMA 1 if it's inside, NEMA 3R if it's outside) pull box, as these are available in dimensions that conform with the specifications in NEC 314.28(A)(2):
(2) Angle or U Pulls, or Splices. Where splices or where angle or U pulls are made, the distance between each raceway entry inside the box or conduit body and the opposite wall of the box or conduit body shall not be less than six times the metric designator (trade size) of the largest raceway in a row. This distance shall be increased for additional entries by the amount of the sum of the diameters of all other raceway entries in the same row on the same wall of the box. Each row shall be calculated individually, and the single row that provides the maximum distance shall be used.

Exception: Where a raceway or cable entry is in the wall of a box or conduit body opposite a removable cover, the distance from that wall to the cover shall be permitted to comply with the distance required for one wire per terminal in Table 312.6(A).

The distance between raceway entries enclosing the same conductor shall not be less than six times the metric designator (trade size) of the larger raceway.

When transposing cable size into raceway size in 314.28(A)(1) and (A)(2), the minimum metric designator (trade size) raceway required for the number and size of conductors in the cable shall be used.
Note that for large raceways, this can lead to rather large boxes, so it may be best to mount the box to one side of the panel and leave a bit of slack length in the too-short run instead of mounting it above the panel, although mounting it below a bottom-fed panel may not be an issue, depending on the depth of the box.
4AWG Wirenut Not Found
Wirenuts are generally not made in large enough sizes to splice 4AWG wires, so your electrician will be using a different splicing device -- a mechanical setscrew connector, or Polaris™ connector as it is often called. These, like wirenuts, are one-piece splicing units, but instead of twisting the wires together, each wire is individually attached using screws that clamp the wires down into a block of plated aluminum, much like a breaker box neutral or ground busbar. While they are available in different configurations (one-sided, two-sided, in-line), most are like the picture below in that the screws sit under the caps on top while the wires go into the ports on the front and/or back (or each end) of the connector. Furthermore, as a result of their construction, they can handle a variety of wire sizes (even in a single connector -- the smallest ones go from 14AWG to 4AWG, and the next smallest size starts at 6AWG and goes to 3/0 or more), and can handle any mix of copper and aluminum wire.
answered Dec 31 '18 at 0:11
ThreePhaseEelThreePhaseEel
68k2323 gold badges102102 silver badges189189 bronze badges
Sours: https://diy.stackexchange.com/questions/153739/wire-nut-tie-together-for-a-4-braided-aluminum-wire
How strong are wire nuts? Wire nut torture test.
Wire Connectors
Wire connectors are used to connect two or more wires together. There are many types of wire connectors, the most common are twist-on. IDEAL Industries brand twist-on wire connectors are the most commonly used and will be featured in this article. Twist-on wire connectors are available in many different color-coded sizes to allow for different wire gauges and number of wires.
Twist-On Wire Connectors
IDEAL Industries first wire connector was called wire-nut®, and had become the trade name for any twist-on wire connector. IDEAL Industries provides information on their wire connectors including connector color coding that indicates size. Connector colors and sizes are are not the same within the industry, but they are similar to IDEAL's connectors.
Ideal Wire Range Chart - A two page quick reference for matching wire size, number of wires, and wire connector color code.
Ideal Wire Connector Brochure - A complete guide of their wire connector products.
Wire Connector Sizes
Wire connector size depends upon the wire gauges and number of wires connected together. Wire connectors packages show the minimum and maximum wires and sizes allowed. Avoid using the minimum and maximum sizes and numbers.
Common Wire Connectors
Twister® - IDEAL considers this the most common wire connector for residential projects. This is also very commonly used for commercial construction. They are available in three sizes. The shell expands when tightening to ensure a secure connection. If you need to remove this wire connector, it should be replaced with a new wire connector because of the expansion.
Wire-Nut® - the original wire connector, available in five sizes.
Wing-Nut® - these have contoured wings to provide a secure grip and extra torque. They are available in three sizes.
WireTwist® - an economical connector similar to the Wire-Nut.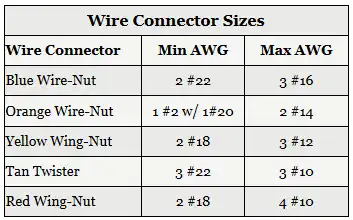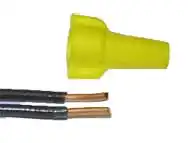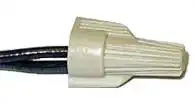 Sours: https://www.electrical101.com/wire-connectors.html
You will also be interested:
Twist-on wire connector
"Marrette" redirects here. For the French politician with a similar surname, see Jacques Marette.
End view showing metal inserts
Twist-on connectors used in a junction box
Twist-on wire connectors are a type of electrical connector used to fasten two or more low-voltage (or extra-low-voltage) electrical conductors. They are widely used in North America and several European countries in residential, commercial and industrial building power wiring, but have been banned in some other jurisdictions.[citation needed][dubious – discuss]
Twist-on connectors are also known as wire nuts, wire connectors, cone connectors, or thimble connectors. One trade name for such connectors, Marrette, is derived from the name of their inventor (seeHistory) and, in Canada, this type of connector is often referred to as a marrette regardless of the actual brand of the product.
Description[edit]
Twist-on wire connectors are available in a variety of sizes and shapes. While their exterior covering is typically made from insulating plastic, their means of connection is a tapered coiled metal insert, which threads onto the wires and holds them securely. When such a connector is twisted onto the stripped ends of wires, the wires are drawn into the connector's metal insert and squeezed together inside it. Electrical continuity is maintained by both the direct twisted wire-to-wire contact and by contact with the metal insert.
Twist-on wire connectors are typically installed by hand. They may have external grooves to make them easier to handle and apply. Winglike extensions are commonly molded into higher quality connectors to reduce operator muscle fatigue when installing a large number of the connectors. Such extensions also allow these connectors to be installed with a common nut driver[dubious – discuss] or a specialized tool.[citation needed]
Twist-on wire connectors are commonly color-coded to indicate the connector size and, hence, their capacity.[citation needed] They are commonly used as an alternative to terminal blocks or the soldering of conductors together, since they are quicker to install and, unlike soldered or crimped connections, allow easy subsequent removal for future modifications.
Twist-on connectors are not often used on wire gauges thicker than AWG #10 (5.26 mm²), because such solid wires are too stiff to be reliably connected with this method.[citation needed] Instead, set screw connectors, clamps or crimp connectors are used.
Variants[edit]
Ceramic twist-on connectors are made for high-temperature applications, such as heating appliances.
Ordinary twist-on connectors are not rated for wet use (such as exposed outdoors or buried underground). Special gel-filled connectors must be used in this circumstance.
Twist-on wire connectors are not generally recommended for use with aluminum wire in the USA.[1] The US Consumer Product Safety Commission disapproves wire nuts for aluminum wire; instead, special crimp connectors are called for, and as of 2011 the CPSC asserted qualified, second-preference approval of a certain kind of screw terminal.[2] In spite of this, several companies manufacture twist-on connectors, which they claim are designed and rated for use with aluminum conductors.[3] Specific twist-on wire connectors containing a conductive, anti-oxidant gel are registered for use on residential aluminum wiring in Canada, including when new copper wiring is connected to older, in-situ aluminum wiring.[4]
Special feedthrough twist-on wire connectors differ from standard wire connectors in that they have an additional opening at the top of the insulated cap. This allows a single-conductor bare wire to be pushed through the hole, forming a "pigtail" section which can be attached to a grounding screw. These feedthrough connectors are typically green, and are also called "screw-on grounding connectors".[citation needed]
Another specialized connector version has a permanently attached wire pigtail protruding from the top of the insulated cap. The pigtail may be unterminated, or it may end in a preinstalled spade lug. If colored white, it typically may be used for splicing neutral wires in a device box, while leaving a pigtail free for connection to a device (such as a receptacle). If colored green, the assembly is intended to be used as a grounding pigtail, similar to the feedthrough twist-on wire connectors without a permanently-attached wire.[citation needed]
History[edit]
William P. Marr emigrated from Scotland to Ontario, Canada early in the twentieth century. After settling in the Toronto area, he was employed as an electrician contractor for Ontario Hydro, converting gas-lit homes to electrical incandescent lighting.
At that time, the accepted practice for joining conductors was a process called "solder and tape". Typically, a mechanic installed the insulated wires; then an electrician cleaned the exposed conductors, twisted them together, and dipped them into a pot of molten solder. After they cooled, the conductors were wrapped with insulating tape.
The process was time-consuming and potentially dangerous. Marr was injured when he spilled molten solder on himself. Seeking a safer, more efficient connection method, Marr, working in his home workshop, developed the first pressure-type wire connector. In 1914, he produced a set-screw version, the forerunner of the present-day twist-on connector used throughout North America.
Ceramic twist-on connectors beginning of 20th century
A connector more closely resembling the present-day twist-on type was patented in Canada by Marr in 1931, and in the US in 1933.
Color code[edit]
This table shows the de facto standard color coding various manufacturers use[citation needed] to indicate the range of sizes of conductors that may be joined with twist-on wire connectors.
^Minimum: 1 conductor AWG 22 + 1 conductor AWG 20; Maximum: 2 conductors AWG 22 + 3 conductors AWG 20
^Minimum: 1 conductor AWG 22 + 1 conductor AWG 20; Maximum: 3 conductors AWG 16
^Minimum: 2 conductors AWG 18; Maximum: 3 conductors AWG 14
^Minimum: 2 conductors AWG 18 + 1 conductor AWG 14; Maximum: 2 conductors AWG 14 + 1 conductor AWG 10
^Minimum: 2 conductors AWG 14; Maximum: 2 conductors AWG 12 + 2 conductors AWG 10
See also[edit]
References[edit]
External links[edit]
Sours: https://en.wikipedia.org/wiki/Twist-on_wire_connector
10424
10425
10426
10427
10428