Yves Saint Laurent Bubble Gum Pink Dress circa 1980s
French fashion designer Yves Saint Laurent pioneered "cross-design" in fashion, taking inspiration from street trends to modernize haute couture.Saint Laurent was the first to launch a ready-to-wear label, YSL Rive Gauche Prêt-à-Porter. He was the first couturier to open boutiques for both men and women. Using traditional menswear fabrics and designs for women, Saint Laurent also literally cross-dressed, giving men and women alike chic pant suits, elegant tuxedo jackets and urban safari gear. By blurring gender-specific design, he empowered individual style while creating a scissor-sharp fashion aesthetic of sensual ease and beauty. Many of his designs are today considered timeless classics.Born to French parents in Oran, Algeria, in 1936, Saint Laurent went to Paris at age 17 to study fashion at the Chambre Syndicale de la Haute Couture. Just two years later, in 1955, his remarkable sketches were shown to Christian Dior, then the world's reigning couturier, who hired him immediately.Surprisingly soon thereafter, Dior publicly chose Saint Laurent as his successor, which sadly proved prescient when the fashion legend died unexpectedly, in 1957. A mere slip of a youth, the 21-year-old Saint Laurent was nevertheless up to the challenge. He shook the traditional couture clientele to its core with youthful silhouettes and styles like the A-line trapeze dress that hung with seeming effortlessness from the shoulders, the antithesis of the pinched waists and molded skirts that had been all the rage after the deprivations of World War II.After a mandated spell in the torturous French military, Saint Laurent suffered a nervous breakdown and was dismissed by Dior in 1962. Out of the ashes rose the Age of Yves. With Pierre Bergé, his then-lover who became his lifelong business partner and friend, the designer founded Yves Saint Laurent YSL to encompass prêt-à-porter, or ready-to-wear. In 1966, they opened the first YSL Rive Gauche women's boutique in Paris, followed soon thereafter by YSL Rive Gauche for men. Saint Laurent had given birth to a global brand.His revolutionary Mondrian mini dress from 1965 is a core element of his fashion biography. It is a prime example of how Saint Laurent, an avid art lover and collector, looked to painters, from Goya to Picasso, Ingres to Matisse, for inspiration.With its pure lines and hues, Mondrian's ground-breaking 1935 color-block painting Composition C transmutes beautifully into a dress that is highly valued by collectors of contemporary fashion and widely copied commercially to this day. The design is the epitome of Saint Laurent's aesthetic, requiring a meticulous hand piecing of each color block so that, despite the body's curves, the visual plain is as flat as a canvas when the garment is worn. Mondrian's purity met its match in Saint Laurent. In Yves Saint Laurent: The Impossible Collection (Assouline, 2020), the Mondrian dress is shown worn on the cover of Paris Vogue, as well as on British Sudanese model Alek Wek in a photographic trifold by Christoph Sillem from 1998. Saint Laurent consistently used Black models, like Mounia, Iman and Naomi Campbell, and he drew endless inspiration from different ethnicities and cultures, in no small part because of his Algerian roots.Browse an extraordinary collection of Yves Saint Laurent evening dresses, shirts and more today on 1stDibs.
Sours: https://www.1stdibs.com/fashion/clothing/evening-dresses/yves-saint-laurent-bubble-gum-pink-dress-circa-1980s/id-v_2362643/
Sours: https://gem.app/product/vintage-bubble-suit-jumpsuit-80s-90s-floral-2446
80s Fashion— What Women Wore in the 1980s
The 80s are back, both in pop culture and in fashion. No matter whether you want to dress up for an '80s-themed party, are doing research on '80s trends in fashion, or you just really like the looks from Stranger Things, we've got you covered. For more on what real '80s ladies wore, from denim to leotards to prom dresses, read on!
Skip the history and look at these 80s outfit ideas you can buy now. 
80s Fashion: Jeans and Overalls
The '80s were the decade for designer denim, with Gloria Vanderbilt, Jordache, Calvin Klein, and Guess leading the pack. Designer jeans were especially popular with younger women, teens, and girls, and came in lots of colors and styles. There were wide leg jeans, stretch pull on jeans, and colored jeans — especially pink, khaki, and white. They had a high waistline and a snug fit through the hips. Many jeans were flat-front, although pleated front jeans were available. These, along with other pleated front pants, were typically worn by mature women.
1984 stretch denim jeans
1982 pink Wrangler jeans
Acid wash or stonewash jeans, previously only worn by subcultures like punks, entered mainstream fashion in the mid '80s.
Whitewash jeans, or jeans with an almost-white color due to heavy acid wash, were the most extreme form of acid washed jeans. The only place where dye was left on them was at the seams. Acid washed jeans are back in style now, so you can find new vintage-style jeans relatively inexpensively.
Shop '80s jeans, pants and leggings here.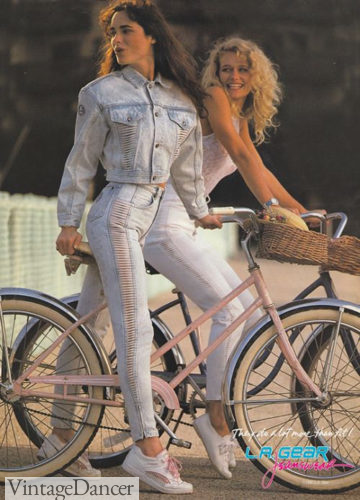 White wash jeans worn with denim jacket by L.A. Gear
There were lots of brands and styles of jeans to choose from, but the overarching jean style of the decade for women was high-waisted, tight-fitting jeans with a straight or tapered cut. "Pegging" jeans, or folding and rolling them up to fit snugly around the ankle, was a trend with teens and girls.
Another style of jeans/pants was the paper bag style, where the waist of the pants were gathered to look like the crumpled top of a paper bag. These pants have also come back into style and are easy to find.
Salt-n-Pepa
Jeans in the '80s didn't just come in different washes — they came in different colors and patterns, too. Popular colors included pink, green, and purple. Prints featured stripes, flowers, and paisley. Denim prints were typically small and busy. 
Colored Levi's jeans for misses and girls
Of course, denim wasn't just for jeans in the '80s — denim overalls, jackets, and shirts were also fashionable! '80s overalls came in traditional denim, as well as in other colors. They were primarily worn by women and girls, but they were also worn by men, typically as functional workwear. Denim jackets were also in style, and they followed the same trends as denim jeans.
80s floral jeans
Although not made of denim, another pants style that saw its rise in the '80s was parachute pants. Slim-cut and made of nylon "windbreaker" fabric with lots of zippers, these pants were worn primarily by breakdancers before entering mainstream fashion, where they were favored by kids and teens. These pants are sometimes confused with Hammer pants or harem pants, which are very full pants that taper at the ankles, as popularized by MC Hammer. Hammer pants were more of a '90s trend and won't fit well with an '80s outfit.
1986 shiny cotton pants
Two other pants styles worn by women in the '80s were stirrup pants and leggings. Stirrup pants were slim pants with a stirrup, or a band of material that encircled the foot, at the bottom. Even the stirrup style is back in fashion now!
1988 stirrup pants
Naturally, if you weren't wearing stirrup pants, you had to pair your oversized sweatshirt or sweater with a pair of leggings. Luckily, there is such a large selection of legging styles available now so that finding the perfect '80s style is not difficult.
Jumpsuits
The jumpsuit, which started gaining fashion momentum with the disco movement of the '70s, hit peak fashionability in the '80s. Women in the '80s could choose from a wide variety of styles, from casual to dressy. 
1981 summer jumpsuit with lace
For summer, a young woman might wear a lightweight cotton or chambray jumpsuit. Summer jumpsuits came in pastel blues, yellows, and pinks. Some jumpsuits were printed with floral or stripe patterns, or they had detailing such as crochet or lace appliques, gathers, or pleats. Most jumpsuits had short or elbow-length sleeves, often with a large cuff.
1987 chambray coverall-style jumpsuit with surplice top and floral print
Coverall-style jumpsuits were also popular in the 80s. These jumpsuits had a workwear-inspired look with roomier sleeves and legs. They often incorporated hardware such as zippers, snaps, and buckles, and were made with heavier-weight fabrics — including denim. The bodice of these jumpsuits typically resembled a button-down casual or work shirt, with wide convertible collars, shirt pockets, and a boxy cut.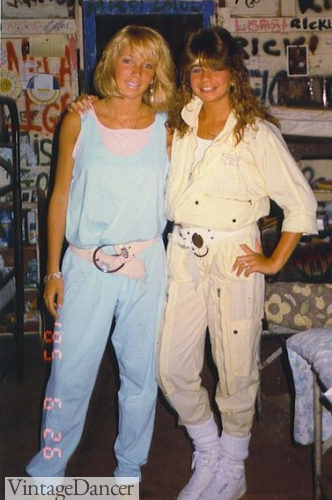 Tank-style and coverall-style jumpsuits worn with wide belts
'80s jumpsuits tended to be cut very full, with loose bodices and wide legs. They cinched at the waist either by belt, yoke, or tie. This served to emphasize the waist and create an hourglass shape. The bottoms of the jumpsuit followed the pants trends of the '80s and were often pleated at the waist, adding fullness at the hip. The legs tapered to a straight or slim cut at the ankle. 
Almost all '80s jumpsuits had either some form of sleeve or a coordinating jacket to wear over them. Starting in the mid-1980s, many jumpsuits began to have large shoulder pads. 
1986 dressy floral jumpsuit with shoulder pads
Young women, teens, and tweens liked jumpsuits because they were easy to put on and style. 
For evening or going out, a woman had the option of a dressier jumpsuit. Some were made with woven fabrics, while others were made of knits. Styles for teens and young women tended to have bolder cuts such as V-necks or fitted bodices, and featured bright or bold colors and metallic.
1987 women's dressy jumpsuit
For the more mature woman, a solid color jumpsuit with contrasting accents, such as buttons or a belt worn with coordinating accessories, was a nice alternative to a dress for an evening event. Long and drapey or dolman style sleeves were both popular look for the dressy jumpsuit.
Shop 70s-80s jumpsuits.
Powersuits
In the '80s, women were entering the workforce in greater numbers than ever before. Naturally, working women had to look the part, and they did so in menswear-inspired power suits. 
1988 power dresses with contrasting belts and trim
'80s blazers are instantly recognizable from their extended shoulders, an effect achieved by the large shoulder pads in the lining of the jackets. Vintage '80s blazers with intact shoulder pads are not difficult to find secondhand today. Shoulder pads are also back in style now, albeit not at the sizes seen in the '80s. A modern blazer with defined shoulders and a boxy cut can work for an '80s-inspired look. 
1980 teen girls' workwear/business wear
Along with her blazer, a working woman would typically wear a coordinating pair of slacks or a skirt. Slacks were typically high-waisted with a pleated front and straight-cut legs. Skirts were A-line and fell below the knee. 
1987 jacket and skirt set
Power suits were typically paired with crisp blouses, often button-down. Many blouses were reminiscent of the blouses of the 1940s with high necklines, neckline detailing (scarf, tie, bow, etc.), and voluminous sleeves. If a blouse was intended to be worn without a jacket, it would often have full shoulders. Some blouses even had their own shoulder pads, which could give the sharp-shoulder look on their own or enhance the shoulders of a blazer worn on top.
1983 women in workwear
To complete her professional look, a woman would wear a pair of coordinating pumps and, if wearing a skirt, nude pantyhose. A woman would never go to work with bare legs! She would also accessorize with jewelry. Earrings and a matching necklace were a go-to style, or she could wear a scarf or tie in place of a necklace. 
Sweaters
Sweaters were an '80s trend everyone could (and did!) participate in. 
1987 pastel sweaters
Most sweaters for men and women had knitted patterns made of different-colored yarns. They came in patterns such as geometric shapes, stripes, Icelandic / snowflake patterns, flowers (for women), polka dots, abstract, and classic argyle. Sweater patterns could radiate from the neckline, form rows across the torso or edge of the sweater, or be spread across the whole sweater. 
1988 sweaters
Sweaters also came in various knit stitch patterns; cable knit, rib knit, and other decorative stitch patterns added texture and pattern to sweaters in a more subtle way than color.
Novelty sweaters — such as Christmas sweaters and sweaters depicting animals, objects or scenery — were also worn in the '80s. Although knitting as a craft was becoming less widespread, many books and magazines from the '80s can still be found with patterns for these types of sweaters.
1987 glitter sweaters with metallic threads
For women, pastel sweaters in pink, yellow, blue, and coral were popular. Teens and young girls wore these colors in addition to primary and bright colors. Women wore primary colors too, but in deeper or richer tones. For a winter party, a woman could also wear a dark-colored sweater with a design in metallic yarn. This would be paired with coordinating slacks or a skirt.
1987 patterned glitter sweater with matching skirt
Women's sweaters came in pullover and cardigan styles, with pullovers being more prevalent. They could choose from crew neck, turtleneck, and V-neck styles, as well as cowl neck and off-the-shoulder styles. Shop '80s-style sweaters here. 
For teens, an oversized sweater was a must-have. These sweaters were long (some reached mid-thigh) with loose, baggy sleeves that were often pushed back. Dropped shoulders and large armholes contributed to the loose and baggy fit. An oversize patterned sweater would be paired with jeans or slim-cut pants in a coordinating color for a casual look. Many women's sweaters were also baggy, but typically not as exaggerated as the sweaters worn by teens.
1987 oversize dolman sleeve polka dot sweater
Esprit and United Colors of Benetton were the "it" brands for juniors' colorful, oversized sweaters in the '80s. Esprit was known for its bright colors and wild, abstract patterns, while United Colors of Benetton sweaters typically had repetitive, often intricate, patterns using multiple colors of yarn.
1987 teens' color block sweater
Another '80s sweater style (seen on men and women) was the sweater vest. Most sweater vests were V-neck pullovers, although some buttoned in the front. Like sweaters, sweater vests came in patterns and solids, as well as different textures. A sweater vest over a coordinating button-down shirt was an easy everyday look for women.
1987 cardigan sweater vests
1988 argyle pullover sweater vest
80s Shirts
For women, '40s-style blouses with collars and/or bows or ties at the neck were popular, both for work and everyday wear. The button-down blouse was also a staple for women — these came in different colors, patterns, and sleeve and collar styles. Victorian or peasant style blouses with ruffles, eyelets, and lace were another throwback trend in the '80s.
1987 Victorian inspired blouses
1988 silk blouses
Casual shirts such as button downs, polos, T-shirts, and other knit tops came in a wide variety of patterns, including stripes of varying widths, tropical or floral prints, pop art/abstract patterns, and more.
1986 polo shirts
1987 button-down women's casual shirts with colorful prints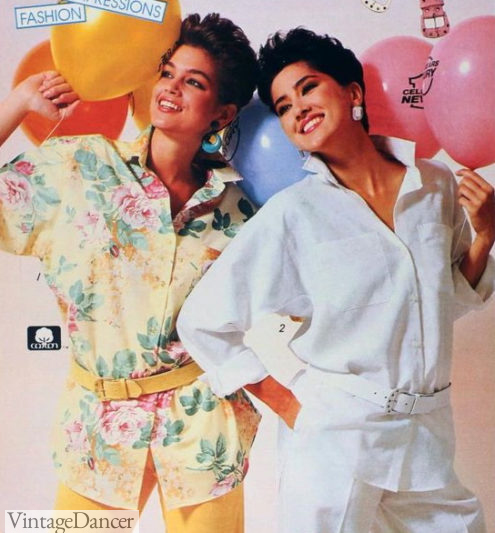 1986 oversize shirts with loose belts
The mid-'80s saw the rise of fluorescent or neon colors. Neon pink, green, and yellow appeared on shirts, sweatshirts, and accessories targeted mostly towards children, teens, and athletic clothes for women.  
Graphic T-shirts rose to prominence in the '80s as well, sporting all kinds of messages, logos, and images. Logos such as MTV, Esprit, Coca-Cola, political slogans, TV/movie characters (Mickey Mouse, Gremlins), and musicians (Prince, Michael Jackson, Run DMC) were quite popular. For an authentic '80s look, look for a crew neck tee with a boxy cut and an '80s-appropriate graphic. Shop '80s style shirts here.
1981 graphic t-shirts
1985 cartoon sweatshirts
Jackets/Outerwear
Women in the '80s had lots of choices for outerwear. For fall and winter, a long coat — often with a belt and wide collar — was the standard option. These coats typically fell below the knee, which meant if the wearer had a dress on, it would be fully covered and protected. Shorter jackets were also available. Many of these were very plain and came in basic colors such as beige, black, or navy.
1981 long coat with collar and belt
For nicer occasions, a woman might also have a fur jacket or a full-length fur coat. This could be made of real or faux fur. The continuation of animal rights activism from the '70s meant there were more and nicer faux fur options than in the past. 
1987 faux fur coats
The flip side of the fur coat was the leather jacket. While a fur coat signified sophistication and class, a leather jacket was more rebellious and edgy. Fur was traditional — leather was trendy.
1989 leather blazer
Women could choose from a variety of leather jacket styles, from motorcycle jackets and leather dusters to leather blazers and tailored jackets. These styles were also available in a variety of colors, and many had detailing through hardware (snaps, zippers) and added textures through stitching or embossing.
Denim jackets were another outerwear option for '80s women. Denim jackets followed all of the same trends as denim jeans did, which meant they were available in acid washes, colors and prints, and different fits. They were primarily worn by girls and teens, especially in wild colors and prints.
1987 light wash denim jacket with sweater
1988 acid wash denim jacket
Although the windbreaker as we know it entered fashion in the '70s, the '80s were when windbreakers really began to take off. They were worn by all ages and genders, and were typically made of brightly colored, often color-blocked nylon. 
1987 men's and women's windbreakers
Shop '80s windbreakers and jackets here.
80s Dresses
1986 40s style shirtwaist dresses
The '80s saw a revival of dress styles from the 1940s and 1950s. Shirtwaist dresses, a dress style that buttoned down the front, were very popular with women. The A-line skirts and cinched waists were comfortable and flattering. These dresses were often collared and could have short or long sleeves. They varied in length from just below the knee to mid-calf (tea length), and came in solids and patterns. Many '80s dresses in this style are still relatively easy to finkd today at secondhand and thrift shops.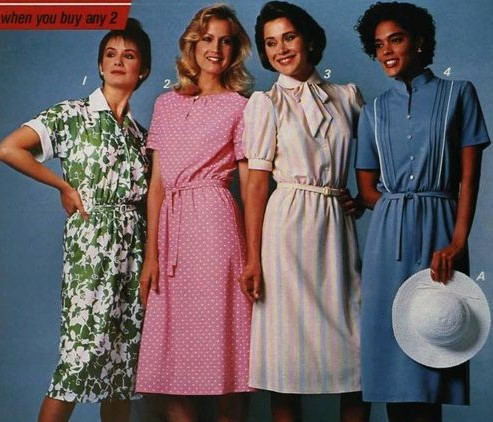 More 40s-style shirtwaists from 1986. Note the tie collar and puff sleeves on the white dress.
A woman's shoulders and neckline were the focal point of the '80s, so many dresses had shoulder pads or full, puffed sleeves and neckline detailing such as a bow, decorative collar, or ribbon or fabric tie. The styles were reminiscent of the 1940s' emphasis on sleeves, shoulders, and necklines — except most '80s styles were even bigger and fuller!
1987 pop pattern, colors big shoulder pads
Summertime brought out the classic sundress, which was usually sleeveless or short-sleeved with an A-line skirt. These dresses could have spaghetti or tie straps and were typically made of a lightweight woven polyester or polyester blend. These dresses were typically fitted at the waist with a waistband, belt, or tie. Many dresses had prints such as stripes, flowers, or polka dots.
1981 sundresses
In the early '80s, the peasant or boho style dress, a carryover from the '70s, permeated the market. These dresses often had gathered or off-the-shoulder necklines and featured lace, ribbons, ruffles, or tiers in their design. Starting in the mid-'80s, drop-waist sailor-style dresses overtook the peasant dress for summer looks. These dresses often had a sailor collar with large bows and came in red, navy, or white with contrasting details.
1984 nautical style dresses with bows, puffed sleeves
Formal or party dresses for adult women followed '80s trends more closely than casual dresses. Lace, velvet, bows, puffy sleeves, and big shoulders were all seen on '80s formal dresses. These dresses were typically made of velvet, acetate, and taffeta, as well as polyester knits and wovens, in colors such as black, red, blue, and green.
For a daytime summer event, light and airy dresses in white or pastel colors made of chiffon and/or lace were often worn. These dresses fell below the knee and, starting in the mid-'80s, came in drop-waist styles reminiscent of the '20s. They usually had details such as a tie belt, buttons, or collars. Shop vintage and '80s style dresses here.
1987 formal dresses
Starting in the mid-'80s, dropped waists and flowing unfitted styles became popular. Skirt lengths in formal dresses varied from knee-length to mid-calf. Only for a very formal occasion would a woman wear a floor-length dress.  
1989 dresses with drop waist, peplum
A woman would pair her dress with either nude or black pantyhose, depending on the color and style of her dress. Coordinating heels, jewelry, and a small evening bag completed her look. 
1988 party dresses
80s Prom Dresses
For a girl in the '80s, prom was the pinnacle of the high school experience. Prom night was the night every girl could be a princess, and '80s prom dresses reflected this! Shop '80s style prom dresses here.
Prom dresses varied in length from mini (above the knee) to floor-length, and everything in between. They came in all colors, from pretty pastels to popping neons to rich jewel tones. Metallic and sequined prom dresses were also trendy. 
1989 colorful prom dresses
Prom dresses followed the main trends of the '80s, emphasizing the shoulders and neckline and incorporating style details like big bows, ruffles, and ruching. Fabrics used included lace, velvet, satin, tulle, taffeta, lamé, and acetate.
Metallic prom dresses
Victorian or princess-style ballgowns were very popular. These had long, full skirts and fitted bodices and were trimmed with bows, ruffles, lace, ribbons, and flowers. They might have had layered or tiered skirts and puffy, voluminous sleeves. 
1986 lace prom dresses
Many prom dresses were strapless, off-the-shoulder, or one-shoulder styles. Thin spaghetti straps were another alternative to traditional sleeves. Necklines were typically in a sweetheart or straight style.
Besides the voluminous ball gown-style skirt, girls could choose from sheath, high-low or flared skirts, and (in the mid- to late-'80s) drop-waist styles. Another alternative was the "pouf" or bubble dress, a throwback to the 1950s with a short, voluminous skirt that "bubbled" out. 
Short prom dresses with sequins. Left dress has bubble skirt.
For a less dramatic or "out there" look, a girl could choose a more bohemian-style prom dress. These dresses typically came in white, off-white, or varying shades of pastels, and often had long slim A-line skirts with ruffled hems — similar to the Victorian-style prom dresses, but with less volume. They were often made of lighter fabrics such as lace, eyelet, cotton, polyester, voile, or dotted Swiss. Trims included satin, lace, ribbon, and ruffles. 
1980 boho prom dresses
Just because she had a dress didn't mean a girl was ready for prom. Aside from makeup and hair, she needed a pair of matching heels and pantyhose, either in nude or a color to match her dress. A girl might also wear a matching hairpiece and/or matching gloves.
Sequin prom or party dresses
She would also wear coordinating jewelry, particularly earrings and necklaces or bracelets to match. Drop or dangle earrings worked well with the feminine look of princess or Victorian-style dresses, while hoops or large studs complemented flashier styles.
Short or choker-style pearl necklaces were a natural fit for Victorian-style gowns, and pendant or chunky metal necklaces were worn with other styles. Naturally, a girl would have to leave a wrist free for her corsage, but on her other wrist, she could wear a beaded, metal, or bangle bracelet. 
1981 prom wear. Victorian-style dress with lace on the right, boho-style dress with floral print and crocheted shawl on left.
80s Workout Clothes
The '80s saw an increase in health consciousness, with many people engaging in various physical activities. All of this exercise meant people needed separate outfits for working out. Enter '80s workout clothes! 
1982 girls' athletic wear, tracksuit on right
The quintessential '80s workout outfit is the tracksuit. A tracksuit consisted of a jacket, usually full zip, with matching pants made of nylon, velour, fleece, or polyester. They typically came in solid colors or, in the case of nylon tracksuits, color blocking. Bright or neon colors were popular, particularly for younger people. 
Another popular clothing item was the leotard, worn for dance, aerobics, or the latest exercise craze, Jazzercise!Leotards for adult women were typically in solid bright colors or thin stripes, but girls and teens could choose from leotards with patterns or designs.
1985 leotards, tights and leggings
1984 leotards and jazz dance outfits
Naturally, no '80s leotard would be complete without colored tights or leggings worn underneath. The outfit would be topped off with leg warmers, soft-soled exercise or ballet slippers, and a headband/sweatband. Shop '80s style workout clothes here.
The 80s also saw the carry over of dolphin shorts from the '70s — very short nylon shorts with an elastic waistband, contrasting trim, and rounded edges. They were worn by men, women, and teens, often with a T-shirt or knit top. Women and girls paired them with crop tops in the summer, and also wore them over bikinis or with bikini tops. 
Puma athletic wear with dolphin shorts
With the craze for athletic wear in full gear during the '80s, athletic shoes were a prominent feature of the footwear market. Brands such as Nike, Adidas, Reebok, Converse, Puma, and Pony partnered with important figures in the sports world to promote their shoes. With an explosion of new options in various colors, brands, and styles, it's fitting that the '80s was the birthplace of the sneakerhead movement. Shop retro sneakers. 
1981 athletic sneakers
80s Shoes
For as bold and out-of-this world '80s fashions were, the shoes were basic. Classic pumps, canvas sneakers, moccasins, wedges, penny loafers, boots, and sandals were not new inventions. These classics paired well with the latest trends while remaining neutral to the overall outfit.
Pumps
1987 women's pumps, varying heights and styles
Pumps were worn by the working woman to the office, so many came in basic colors (black, red, navy, white) with minimal decoration. Visual interest was typically added through texture (woven, snakeskin/crocodile texture, perforations) or details such as a small bow or contrasting toe cap. A basic pump for workwear would typically have a heel height between 1-½"  and 2-¼". 
1987 pumps for evenings
Formal shoes typically had higher heels, up to 3-½ inches. If a woman couldn't find shoes in a color to match her formal dress, she could get dyeable shoes, which were typically made with white satin that could be dyed with fabric dye. 
Sandals
1981 heeled sandals
Women's sandals were all about straps! Strappy heeled sandals were popular, with straps at the ankle and straps that criss-crossed over the vamp of the shoe. Huaraches, or shoes with a woven leather upper, were another style popular in the '80s. These shoes were flexible and breathable, which made them perfect for casual summer wear. 
1987 huarache sandals
For a lighter, more playful look, jelly sandals were a new option in the '80s. Jelly sandals were made of PVC plastic, and typically came in transparent colors or with glitter! They were cheap, comfortable, and could get wet, which made them very popular with women and girls. The only downside was the plastic was not breathable, which meant they made your feet hot and sweaty. Gross! Most of the time, colorful socks were worn with jelly shoes.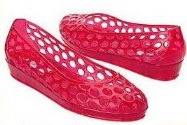 Pink jelly wedge shoes
For an occasion where you only have to wear them for a short while, though, jelly shoes will definitely add an authentic touch to your '80s outfit. Shop 80s-style shoes.
Flats
For casual wear, women had lots of different flat styles to choose from. Skimmers, or what we now call ballet flats, were worn everywhere by women and girls in the '80s due to the athletic wear craze. Other dance style shoes were popular as well, especially Capezio brand shoes. 
1987 metallic ballet flats
Loafers, moccasins, and boat shoes were worn by both men and women, giving a preppier look to casual outfits. Saddle shoes also came back into style, but were primarily worn by women and girls and basically disappeared from fashion by the end of the decade. I adored my Minnetonka moccasins. 
1987 women's slip-on moccasin in primary and pastel colors
Canvas shoes
1987 canvas shoes
On the more casual side of athletic shoes were canvas shoes. Keds and Converse were two of the most popular brands — Keds for women and girls and Converse for all ages and genders.
Kids' Converse shoes with fold-down high tops
The popularity of Keds was spurred on by the brand's appearance in hit movies and TV shows of the era, including Full House and Flashdance. Another shoe heavily featured in pop culture, Converse's Chuck Taylor All Stars had a cool but classic feel that made them irreplaceable to kids and teens. 
Converse shoe ad
Shop 80s style shoes and see more pictures of 1980s shoes
Boots
Boots in the '80s varied in style from booties to Western to Victorian. Booties were short boots, like ankle boots, that typically had flat soles. Western boots in leather and suede were available for men and women in different heights, colors, and embroidery styles. Victorian-style boots laced up and had a short heel. Also known as granny boots, these were primarily worn by young women and teens. Most boots were made of leather, suede, or urethane and could be flat or have heels. Shop boots. 
Socks
An essential part of the '80s wardrobe, socks could not be overlooked when choosing footwear. Slouch or scrunch socks, loose socks that bunched around the ankles, were a huge trend in the '80s, particularly with teens and girls, although they were also worn by women with aerobic or workout outfits. If you were super trendy in the '80s, you wore your slouch socks layered in different colors.
1988 layers of scrunch socks
Another sock trend brought on by the athletics craze was tube socks. Knee-high and usually striped, these socks were typically worn pulled all the way up. They were typically worn as a fashion item by men, but were worn as athletic wear by both women and men. 
Shop vintage style socks. 
1985 gym socks
Accessories
Jewelry in the '80s was big, bold, and flashy. "Less is more" was not in style. '80s jewelry was all about stacking, mixing, and matching all types of jewelry. Shop 80s accessories here. 
Madonna wearing beaded necklaces and gold dangle earrings
Large earrings were one of the most memorable trends of the '80s. Big hoops, studs, and long dangling earrings were popular, and these were usually paired with matching bracelets and necklaces.
Long pearl necklaces were worn for a dressy look, while beaded necklaces, pendants, and chunky metal necklaces with or without stones were worn for casual or dressy occasions. Bangles, cuffs, and charm bracelets were worn in the '80s, and both necklaces and bracelets were stacked to give an individual look. Cocktail rings — decorative rings typically made with large, colorful stones — were worn by mature women.
Bold colors and shapes
Gold tone jewelry
For teens and pre-teens, jelly bracelets, Swatch watches, and friendship bracelets were popular jewelry trends. With jelly bracelets, the more you could wear, the better! Jelly bracelets were inexpensive and came in all colors. Swatch watches were colorful plastic watches that came in a wide variety of colors and designs. The more Swatch watches you wore, the cooler you were!
1980s swatch watches
1989 plastic belts, hoop earrings and T-Shirt sliders
Danica Mckellar teen fashion idol
Belts were a big trend for women in the '80s. They were the easiest way a woman could get the cinched waist look to counteract the wide shoulders and flared skirts that were trendy at the time. Belts in the '80s could be thin or wide and have big or decorative buckles. They were often worn over long shirts or sweaters, as well as dresses.
Wearing hats had been losing popularity since the '50s, but the '80s saw a resurgence in hats as fashion.
1987 hat with jewelry
Sophisticated fashion with a hat , gloves and jewelry
Many styles were brought back from previous eras, including fedoras, newsboy caps, berets, and even the bowler. These styles topped the heads of some of the most famous heads of the era, including Michael Jackson, Boy George, and Princess Diana. Another hat made popular by celebrities was the bucket hat. Kangol was the must-have brand and was worn by a lot of '80s rappers. Kangol hats have seen a recent resurgence and are still available for sale today. 
Debbie Gibson wearing a bowler hat
Baseball caps were ubiquitous in the '80s because of the variety of styles and designs available. Visors — basically baseball caps minus the crown — were another trendy style in the '80s, especially with the health and fitness craze. Shop '80s-style hats here. 
An '80s summer look wouldn't be complete without '80s sunglasses — and luckily, there are lots of styles to choose from! One of the most popular styles in the '80s (and still available today) was the Ray-Ban Wayfarer, as featured in the movie Risky Business. These sunglasses spawned tons of knockoff styles, including styles with contrasting earpieces.  
1987 Wayfarer-style sunglasses
Most women's sunglasses in the '80s were large, often with colorful frames. They came in round or geometric shapes.
1987 FM radio sunglasses
1980s Hairstyles
'80s hair is most known for its volume. Big, fluffy, curly looks, often with bangs, were replicated by women all over. Women achieved volume with their hair by crimping, curling, or getting a perm, and these methods worked on both long and short hair. Naturally, all of these styles were held in place using lots of hairspray!
Women's teased hairstyles, 1980s
An alternative to the big hairstyles of the era was short and straight hair with bangs, or a feathered look á la Farrah Fawcett. Another alternative was a short, almost masculine cut worn by many mature women. 
Hair accessories such as hair bows, clips, headbands, barrettes, and scrunchies were also popular. Headbands were typically worn straight across the forehead like sweatbands, and one trend was to wear a bandana wrapped around the head like a headband. Scrunchies were popular for teens and girls, particularly when worn in a side ponytail. Women also wore them with workout outfits. Shop '80s-style hair accessories here.
1983 girls' hairstyles. Note the side ponytail and hair accessories.
1986 headband with bow
1985 lace hair bow
Makeup
Like the other aspects of '80s fashion, '80s makeup was all about more! Lots of thick black eyeliner, red or pink blush, and bright lips characterized the '80s makeup look. A woman would start with a thick layer of foundation, then use bronzing powder. Self-tanning was also popular in the '80s, and lots of products were available to help women achieve that glowing tanned look. 
1982 day makeup
Eye makeup in the '80s was all about color. Eyeshadows in all shades were popular, and eyeliner and mascara were also available in new shades such as green, blue, and purple. Mascara and eye liner was applied in multiple layers for maximum thickness. Eye liner was applied to both top and bottom and in the waterline. 
Thick black eyeliner and a colorful smokey eye were the standard makeup look for the '80s. Colors could be electric blue, shimmering gold, frosty purple, grass green, sky blue, deep purple, or bright orange. Applying more than one shadow was common.  Blue or pink shadow over the entire eyelid then a pale orange, pink, or white shadow is blended into the arch of the brow. Eyebrows were typically left natural or darkened slightly. The shape was even and somewhat thick. 
1984 purple eyeshadow

'80s blush was usually thick and red or a vibrant pink. Blush was applied under the cheekbones and drawn toward the temple. The '80s were not a time for subtle makeup looks!
Blush extends up the cheekbone
Beauty marks also came back into style, a trend that's typically attributed to the singer Madonna. Use brown eyeliner to dot one on. 
Bright makeup
Sours: https://vintagedancer.com/1980s/80s-fashion-what-women-wore-in-the-1980s/
Top 10 Of The Best 80s Fashion Trends For Men. How To Dress 80s
Quick Guide to 2000s Fashion
AUGUST 16, 2021
Gossip Girl (The CW)
We may be almost two decades removed from the dawn of the new millennium, but it can be weird to think of anything set in the 2000s as a period piece. From movies set entirely in the decade, like 2018's Lady Bird, or shows that constantly feature flashbacks, like This is Us, many productions are exploring the recent past. So if you don't know a lot about the aughts or have just forgotten, here's what you need to know about 2000s fashion to put together the perfect look.
What '00s look are you going for?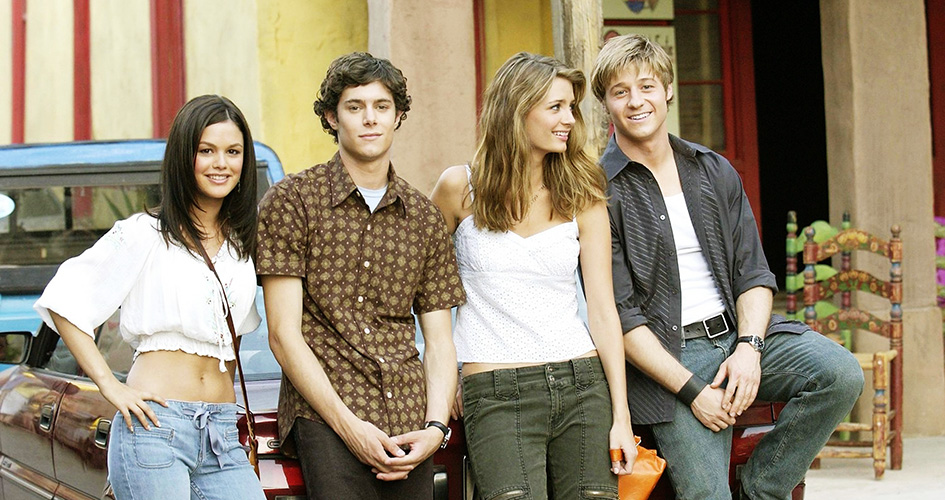 The O.C. (Fox)
Many clothing trends in the 2000s were born out of globalization, the rise of fast fashion (affordable clothes based off runway designs usually found in department stores like Mervyn's, J.C. Penney, and Macy's), and celebrities' growing influence as style icons.
As with all decades, looks and trends varied as the '00s went on, so if you're tasked with putting an outfit together, don't assume your tracksuit straight from 2001 will work for every occasion. The 2000s were also home to trends that hit big and burnt out fast. If you're going for a particular look, be sure that style is from the right time period before heading to set.
Early 2000s fashion
The Fast and The Furious (Universal) | Freaky Friday (Disney) | Legally Blonde (MGM)
Technology and Y2K had a huge impact on fashion in the early 2000s. The color palette was filled with shiny black tones and reflective metallics. While some Y2K trends were worn daily, many of these looks were reserved for going out. Popular outfits for women included mesh or handkerchief tops, box-pleated or leather skirts, shiny pants, and sparkly shoes. For men, Y2K looks usually involved leather jackets, a statement dress shirt, and chunky shoes. If you need inspiration, Britney Spears and *NSYNC were trendsetters for this type of style.
Casual clothing and leisurewear were the other big trends of the early 2000s. Denim became a staple for men and women, going beyond jeans to shirts, jackets, and hats. If you're putting together a casual style for women, think crop tops, hoodies, low-rise flared jeans, cargo pants, daisy dukes, jean skirts, off the shoulder tops, ribbed sweaters, with platform sandals, Ugg boots, or sneakers. Common looks for men included, distressed denim, cargo pants, tracksuits, rugby or polo shirts, flip flops, oxford shoes, and sneakers.
Mid 2000s fashion
That's So Raven (Disney) | The O.C. (FOX) | Charmed (WB)
As the decade went on, 2000s fashion began to take cues from 1960s bohemian looks. Yoga pants, low-rise jeans, cowl-neck shirts, peasant tops, capri pants, cropped jackets, and dresses over jeans were popular outfit choices for women. These were often paired with accessories like chunky belts, aviator sunglasses, jelly bracelets, ties worn around the neck or as belts, ballet flats, and platform boots.
The 1960s revival looks were also popular with men. Outfit options included light wash bootcut jeans, cargo shorts, classic rock t-shirts, fitted cowboy shirts, henleys, polos with popped collars, and seersucker suits.
The middle of the decade was also defined by the latest "it" items, like Von Dutch trucker hats, Juicy Couture tracksuits, and Louis Vuitton bags.
Late 2000s fashion
Hannah Montana (Disney) | Ugly Betty (ABC) | Gossip Girl (The CW)
Many styles from the early and mid-2000s carried over to the latter part of the decade, with a few exceptions. For women, crop tops were replaced with camisoles and miniskirts gave way to babydoll, bubble skirt, and sweater dresses. There was also a 1980s and 1990s revival that reintroduced neon colors, animal prints, geometric shapes, light denim jeggings, and ripped acid washed jeans that were worn with gladiator sandals, ballet flats, and headbands. An oversized look started to gain popularity, but it was subtler than the traditional '80s fit.
Men's late 2000s fashion was a mix of 1950s and 1980s throwbacks, with letterman and black leather jackets, overcoats, slim cut jeans, Ed Hardy t-shirts, flannel shirts, and V-neck sweaters. These were often paired with dad hats, wayfarers or aviators, motorcycle boots, Converse, Vans, or sneakers. The men's power suit was also updated from the '80s to have more a slim tailored cut.
Types of '00s looks
Hip-Hop
Jay-Z (Roc-A-Fella/Def Jam)
Many rappers influenced fashion with their own clothing lines in the 2000s, including Jay-Z, Diddy, Nelly, and 50 Cent. Many looks included baggy jeans, tall t-shirts, sports jerseys, velour suits, bubble jackets, and puffer vests paired with headbands, sweatbands, Timberland boots, and sneakers like Adidas Superstars or Nike Air Force 1s.
Streetwear
Malibu's Most Wanted (WB)
Streetwear is often brand focused casual clothing, like jeans, tees, and sneakers. In the late 2000s, popular streetwear styles included distressed skinny jeans, loose fitting tops, loose or fitted tracksuits, track pants, hoodies, graphic t-shirts, vintage thrift shop tees, and Tommy Hilfiger and U.S. Polo Assn. brands. Sneakers were an important part of the look, especially retro Nike Air Jordan's and Adidas Yeezys. Shoulder bags were also a popular accessory for men.
Emo
Mean Girls (Paramount Pictures)
Emo fashion trickled into the mainstream in the mid-2000s and took cues from goth and punk styles. Outfits were often all or mostly black with skinny jeans, band t-shirts, studded belts, and checkered Vans. No emo outfit was complete without the right hairstyle, most common were choppy cuts with long side-swept bangs dyed black, platinum blonde, or a bright color.
Scene
Paramore (Fueled by Ramen)
Scene styles became popular at the end of the decade and were influenced by indie, rave, and punk fashion. This look often included skinny black biker jeans, bright t-shirts and hoodies, band shirts, tutus, and studded belts. Like with emo styles, hair was a big part of the look. A popular scene hairstyle was bright neon dyed hair teased and swept to the side and accessorized with tiaras and bows.
Athleisurewear
Desperate Housewives (ABC)
If you wanted to be comfortable yet fashionable in the early 2000s, all you had to do was throw on your favorite tracksuit. Everyone from Britney Spears to Beyoncé and Eminem to Diddy were in on the tracksuit craze. They were often brightly colored and emblazoned with rhinestone logos and phrases.
It was also popular to mix track pants with dress clothing and designer shoes to elevate the look.
Creating your own 2000s look
You've been booked by a Casting Director and are now tasked with putting together your own look straight from the 2000s. When getting your outfit together, you should always start with your details. Depending on the project or role, your details may include very specific instructions or may leave room for you to inject your personal style. Just remember, whether you're asked to wear your wardrobe or bring it to set, you should always arrive with your clothing clean and unwrinkled.
Want to know more about looks from difference decades? Check out our guides on 1960s, '70s, '80s, and '90s fashion.
Sours: https://www.centralcasting.com/quick-guide-2000s-fashion/
80s bubble suits
What's it like to live in a bubble? For some, this means living a sheltered life. But David Vetter, a young boy from Texas, lived out in the real world - in a plastic bubble. Nicknamed "Bubble Boy," David was born in 1971 with severe combined immunodeficiency (SCID), and was forced to live in a specially constructed sterile plastic bubble from birth until he died at age 12.
Today marks what would have been David's 40th birthday. Now, kids with SCID lead normal lives, thanks to therapy made possible in part by David's own blood cells. A recent report showed that 14 of the 16 children who received this experimental therapy nine years ago are now living full lives.
But what was life like for "Bubble Boy"? Keep clicking to look back at David's heartbreaking story, put together here with the help of Texas Children's Hospital, Baylor College of Medicine, and PBS documentary, "The Boy in the Bubble"...
David was born on September 21 at the Texas Children's Hospital in Houston. After 20 seconds of exposure to the world, he was placed in a plastic isolator bubble.
David wasn't the first child in the family to be born with SCID. Carol Ann and David J. Vetter's first son died in infancy of the disease.
After Carol Ann learned she was to conceive another boy, doctors told her her son would have a one in two chance of being born with SCID - a disease that only affects boys. The Vetters refused an offer to abort their child.
Doctors believed David might outgrow SCID by age two - but he ended up spending his entire life in "bubbles," isolator containment centers designed by NASA engineers.
Is it ethical to raise a child in a bubble? That's what 30 staff members of the Texas Children's Hospital wondered - and eventually agreed that it was.
When he was six, David took his first steps outside of the isolator bubble, thanks to NASA. The space agency designed a special spacesuit for David so he could walk and play outside.
To get from the isolator to the spacesuit, David had to crawl through an insulated tunnel.
Every time David used his suit, helpers had to complete a 24-step pre-excursion hookup and a 28-step suit-donning procedure to keep his environment sterile.
Although the process of putting on the spacesuit was complicated, it was worth it for both David and his mother - who was able to hold her son in her arms for the first time on July 29, 1977 (pictured here).
This 1979 photo shows David during a visit with Dr. William Shearer, his primary physician. Dr. Shearer is now chief of the allergy and immunology clinic at Texas Children's Hospital and treats children with SCID today.
David had school lessons through his bubble and kept up with the rest of the kids his age.
David in his annual photo, taken in September 1979. Immunologists told him that a potential cure would not be available for another 10 years.
This is David's annual photo taken in September 1980.
Here's David in his annual photo taken in September 1982. At 11, he was growing more thoughtful and asked to see the stars. His family took him out to watch the sky for 20 minutes on his birthday.
Immune disorders had typically been treated by bone marrow transfusions among perfect donors only. But in 1983, the Vetters learned of a new procedure that would allow bone marrow transfusions from donors who are not perfectly matched - and agreed to try it. David's sister Katherine donated her marrow. Here, Dr. William Shearer talks to David prior to the procedure.
Four months after receiving the bone marrow transfusion from his sister, David died from lymphoma - a cancer later determined to have been introduced into his system by the Epstein-Barr virus. Shortly after his death, the Texas Children's Allergy and Immunology Clinic opened the David Center - dedicated to research, diagnosis and treatment of immune deficiencies.
Sours: https://www.cbsnews.com/pictures/bubble-boy-40-years-later-look-back-at-heartbreaking-case/
Custom Marketplace Search Features on Bubble (Video #2)
Bubble Gum Crisis Animation Cel Anime Rare Nene Linna Hard Suit 80s Read
Seller:thedoeboy214✉️(1,221)99.6%, Location:Irving, Texas, Ships to: US & many other countries, Item:283209200078Bubble Gum Crisis Animation Cel Anime Rare Nene Linna Hard Suit 80s Read. Hello, I have for sale a rare Bubblegum Crisis animation cel from the anime. Cel only. Features Nene and Linna in the hard suits. I have it on top of a white canvas for the pictures. Thanks for looking.Condition:Used, All returns accepted:ReturnsNotAccepted
PicClick Insights - Bubble Gum Crisis Animation Cel Anime Rare Nene Linna Hard Suit 80s Read PicClick Exclusive
Popularity - 0 views, 0 views per day, 30 days on eBay. 0 sold, 1 available.

Popularity - Bubble Gum Crisis Animation Cel Anime Rare Nene Linna Hard Suit 80s Read

0 views, 0 views per day, 30 days on eBay. 0 sold, 1 available.

Price -

Price - Bubble Gum Crisis Animation Cel Anime Rare Nene Linna Hard Suit 80s Read

Seller - 1,221+ items sold. 0.4% negative feedback. Great seller with very good positive feedback and over 50 ratings.

Seller - Bubble Gum Crisis Animation Cel Anime Rare Nene Linna Hard Suit 80s Read

1,221+ items sold. 0.4% negative feedback. Great seller with very good positive feedback and over 50 ratings.

Recent Feedback
People Also Loved PicClick Exclusive
Sours: https://picclick.com/Bubble-Gum-Crisis-Animation-Cel-Anime-Rare-Nene-283209200078.html
You will also like:
The eighties was a decade when many of the fashion trends that people love to hate were created. In complete contrast to the 1970s, shirts became looser and trousers became tighter. Hair was heavily styled, sometimes crimped and often voluminous (teased and permed to the limits!) and make-up was bold with clashing colours - almost like face paint. Some call it "the time that fashion forgot", as most laws of fashion were broken & torn to shreds.

Use these pointers to find your personal 80s fashion style
You can be forgiven for not being very comfortable with the fashion styles of this time, and there are many outrageous looks that certainly make matters worse, including enormous shoulders, wearing your under garments as outerwear and ginormous jewellery.

Music Videoswere a major influence for 80s fashion, as well as American TV shows such as Dynasty and Dallas - shoulder pads spring to mind, as does the fabulous fine jewellery worn by Alexis and Krystle Carrington. And let's not forget the fitness fad which created a huge surge in sales of legwarmers, with teen girls even wearing them over their jeans.
80s pop stars Madonna and Cyndi Lauper had a huge influence of women's fashion. Note the stack of punk-influenced bracelets on each arm with studs, spikes and chains.
On this page, you will discover many original photos from the 80s relating to the many trends and fads that existed during the decade. The eighties certainly had a very strong identity, and people weren't afraid to experiment. The early part of the decade was awash with an array of different styles in the UK, includingpunk (tartan, Dr. Marten Boots, leather and studs became popular),2 tone and ska revival, and flamboyantnew romantic fashion styles.
The top 80s fashion trends included many iconic looks which were were wide and varied, from AC/DC's Angus Young dressed as a schoolboy, to Robert Palmer's controversial 1986 video for "Addicted To Love" - this whipped up a feminist storm after featuring a group of seductively dressed, expressionless female models performing like showroom mannequins. Palmer himself was never seen without a suit on.
Tattoos were also popular in the 80s, especially with rock and metal stars such as Axl Rose and Slash from Guns N' Roses, which encouraged teens and young adults to go and get inked.
MINI SKIRTS, SKATER SKIRTS AND RA-RAS
Of course, mini skirts made their first appearance in the 1960s when they were often worn with go-go boots. During the 80s, more often than not, they were worn with legwarmers and/or leggings. Popular materials were denim and spandex and they were tight and clingy. Rah-rah's and skater skirts were particularly popular.
The ra-ra (or rah-rah) is a skirt with more than one layer (usually two or three layers/tiers, but I've seen some have six!) and during the eighties they came in a whole range of colours. Layers could be flat or in a puffed-out tutu style.

Inflenced by 1950s fashion, polka dot dresses, skirts and tops were worn by royalty and pop stars alike, including Princess Diana and Strawberry Switchblade. A ra-ra/ruffle style skirt or dress with a matching polka dot hair bow and a big PVC belt around the waist would create a perfect 80s look. Original items can sometimes be found on Etsy.
It didn't matter whether you were male or female, wearing bold make-up was essential if you wanted to be fashionable in the 1980s. Boy George, Adam and the Ants and the New Romantics made it cool for men to wear eyeliner and lipstick. For the ladies, mixing bold and colourful eye shadows, eyeliner, heavy lipstick and liberal amounts of blusher was essential! Cyndi Lauper created an iconic look when she wore blue eye shadow and flame coloured hair.
Adam Ant wearing 80s make-up and war paint
Some 80s jewellery trends are back in fashion, and these include beaded (faux pearl) necklaces (as worn by Madonna and Cyndi Lauper), colourful bracelets and big earrings. A big stack of bangles and bracelets were often worn, and colourful plastic bangles and/or jelly bracelets will create the perfect look. Big looped earrings were popular, as were geometric shapes and animal print.
80s AEROBICS aND FITNESS FASHION
For quite a while, an aerobics craze grabbed hold of the nation, and it was created by American dance movies such as Fame and Flashdance. Jane Fonda workout videos helped fuel the 80s fashion craze and you may remember Diana Moran (nicknamed the "Green Goddess") stretching her limbs on BBC's Breakfast Time, much to the delight of presenter Frank Bough. It just looked like far too much effort for me, especially that early in the morning!

Olivia Newton-John was also at it in her controversial video for her hit song Physical. It seemed like every female wanted to join in, and we suddenly saw women appearing out on the streets in aerobics gear just to do the shopping - this was in broad daylight, too!

The 80s keep fit look for women included items such as neon-coloured, plain, pastel or stripy legwarmers that were scrunched up and worn over leggings, tights or even their jeans for a more casual style. They were also worn with mini skirts.

The over-sized, grey sweatshirt with a large neck opening (which was ripped open and worn off-the-shoulder) became hugely popular after Jennifer Beals wore one in Flashdance.

The classic 1980s aerobics look included a headband, leotard, tights or leggings and, of course, those legwarmers.

DOLPHIN (DRAWSTRING) SHORTS
Dolphin shorts(Gym shorts) with a drawstring also became popular and were in usually in one block colour and often with a contrasting edging colour such as white. Interlock running shorts were very similar but without the drawstring.
POWER DRESSING
80S SHOULDER PADS AND PUFFED SLEEVES
This look was very scary indeed, and for a while power dressing was all the rage with power-hungry career women and the soap stars who portrayed them.
The question is, is there anyone who thinks that padded shoulders were a great idea? Walking around looking like you've left the coat hanger in your jacket (or dress) surely has to be one of the worst fashion fads to come out of the 80s! I believe it was a "girl power" thing, and this was long before the Spice Girls came onto the scene. Women were rising through the ranks like never before, and here in Britain, of course, our country was being run by our first female Prime Minister, Margaret Thatcher, who was loved and hated in equal amounts.

Then there was Joan Collins who played super-bitch Alexis Carrington in Dynasty. Let's face it, any woman with broad-looking shoulders and big 80s hair was going to make any man run for cover!

With it's geometric shapes and substantial shoulder pads, the first jacket in the image above is about as eighties as you can get!

Not one to be left out of the latest fashion trends, Princess Diana also sported shoulder pads, although, she was often responsible for starting a new trend.

Madonna made a huge impact on 80s fashion, and wore crucifix jewellery, stacks of bangles and jelly bracelets on her arms, fishnet and lace materials and mini skirts.
One of her most controversial looks was when she wore her lace bra as outerwear, covered only by a mesh tank top. Fishnet tops and tights had previously been worn by the punk movement. Madonna adopted elements of punk fashion to create a bad girl image.
Animal print was also a popular choice in the eighties for both men and women, particularly leopard, zebra and snake. It featured on skirts, leggings, dresses, jackets and well, just about anything wearable! Metal bands loved it, too, and at least one member of most bands could be seen wearing animal print.

Source: Wikipedia. Actress Suzanne Somers (Three's Company) wearing an off-the-shoulder leopard print top with big belt in 1981.
Here we see 80s glam metal band Cinderella donning animal print trousers and accessories on their 1986 album Night Songs.

This original photo from the 1980s shows a girl wearing a zebra print dress with batwing sleeves.

An original 1980s ra-ra dress by C&A (UK)
An original 1980s batwing sleeve zebra and cheese plant print dress
You can see many more skirts on our Ladies Fancy Dress pages

There has been something of a resurgence in this 80s fashion trend in recent years. When I was 14 years old back in 1982, I bought a pair of cheap mirror lens shades from the local market. Street Markets were really popular back in the eighties (in the UK, at least) as there were no chain pound stores or numerous discount clothing superstores on the high street like today.

Ray Ban sunglasses were also popular and worn by many of the pop stars and film stars of the day, but I suspect that a good many of us ordinary folk bought cheaper replicas.

It's nice to see that Ray Bans (particularly Wayfarer), Aviators / Mirror Lens sunglasses are popular once again, along with so many other 80's clothes.
Tom Cruise wearing Ray-Ban wayfarer sunglasses in the 1983 film Risky Business
Invented by Stephen Askin in 1981, teeny boppers (also called bobbers) sold in their millions. Basically, it was just a headband with two, bouncy martian-like antennae protruding from it. Quite why everyone felt the need to look like a little green man I've no idea!

There were many variations with lights and pom poms being particularly popular. They're still worn by party-goers today and, no doubt, should you risk venturing out onto the streets on a weekend night there will be, at least, one hen party wearing them.

Photo by Jim Lane (self-made (the model has consented)) [GFDL (http://www.gnu.org/copyleft/fdl.html) or CC-BY-SA-3.0-2.5-2.0-1.0 (http://creativecommons.org/licenses/by-sa/3.0)], via Wikimedia Commons
New Romanticism was flourishing in the early eighties, and was born in the nightclubs of London such as The Blitz and Billy's. We saw flamboyant men wearing frilly shirts, eye-liner and other forms of make-up. 70s glam rock was a big influence for the look, whilst Kraftwerk influenced the sound, with many (but not all) acts using synthesizers and electronic drums to create their music.
Above we see some typical New Romantic hair styles. On the left is some bloke I've never seen before wearing a dodgy wig, and on the right is the cover of Quiet Life by Japan, featuring a very typical fashion look from the early 80s where we see the hair sweeping over one eye. Quite often the hair was also cut shorter on one side of the head.

One of the earliest examples of New Romanticism can be seen in the video Planet Earth by Duran Duran.

80s SLOGAN T-SHIRTS
CHOOSE LIFE AND RELAX
In 1984, whilst Wham made the "Choose Life" T-Shirt popular, Frankie Goes to Hollywood made the Frankie Say Relax T-Shirt even more popular!
Pepsi and Shirlie, the backing singers with George Michael and Andrew Ridgeley's Wham! made the Katherine Hamnett "GO GO" and "Choose Life" t-shirt famous by wearing them in the video for the 80s hit single 'Wake Me Up (Before You Go-Go)'.
Photo: Holly Johnson with Paul Rutherford who is modelling a "Frankie Say War! Hide Yourself" T-Shirt, which was designed by Frankie Goes To Hollywood's PR manger (and co-founder of ZTT records) Paul Morley. The design was based on Katherine Hamnett's slogan T-shirts, and also included "Frankie Say Arm The Unemployed" and, of course, the more popular "Frankie Say Relax". Unofficial tees with the slogan "Frankie Says Relax" (to avoid copyright infringement) also became popular during 1984 due to the lower prices.

George Michael wearing a Choose Life T-shirt with rolled up sleeves.
These days there are more Wham style T-shirts available than ever before, with lots of variations of the original "Choose Life" message and also available in a whole array of colours.

This is one 80s fashion craze I'd rather forget about. The trend for yukky acid wash jeans was popular from the mid to late 80's and into the early 90's before they died a quick death.

The process involves washing denim with chlorine using a pumice stone and was invented by the Rifle Jeans company in Italy. They were often worn with motorcycle jackets or fringe jackets (cowboy/country music style leather jackets with lots of tassles) by heavy metal and rock bands, although plenty of non-rock acts (such as Bros and Salt N' Pepa) also jumped in on the trend. Acid Washed jeans made a bit of a comeback during the late noughties.

Also known as pegged jeans/pants, during the late 80s and into the early 90s both males and females decided to tight roll the bottom of their jeans 2 or 3 times over. If you tight-rolled a pair of acid-washed jeans then you were ultra-trendy!

Rolling-up the bottom of your jeans is something that is still popular amongst some youngsters today. It's also a good excuse for me to claim that I'm being trendy when I've bought a pair of jeans that are too long for me!

LEVI'S 501 DENIM JEANS aND JACKETS
An original pair of acid-washed, high-waisted 501's

Levi's 501 Denim Jacket from the 80s

A 1985 advert featuring the late Nick Kamen dramatically increased sales of Levi's 501 jeans in the mid 80's. Nick Kamen also had a #5 hit single in 1986 with "Each Time You Break My Heart" which was written and produced by Madonna and Stephen Bray.

After this success, ads featuring old classics by artists such as Sam Cooke, Marvin Gaye, Ben E. King and Percy Sledge also boosted sales of both Levi's and vinyl records during 1986 and 1987.

Denim jackets were often covered with pin badges

Pixie Boots featured pointy toes and fold-over cuffs and were extremely popular with girls in the early eighties in the UK. I don't believe these caught on in the U.S. Such boots are still available to buy today, allowing you to create an uber cool retro style.

If your wore a a Miami Vice suit with rolled-up sleeves with boxer shorts underneath, then you were the coolest guy in town!
A Jumpsuit worn with a belt around the waist was the height of fashion in the 80s.
Take a look back at heavily styled, voluminous hair, wedges, spiral perms and many other crazy styles!
These bizarre-looking skirts were pretty awkward to look at and to wear, but it didn't stop Princess Diana from wearing one.
From Nike to Converse Chuck Taylor All-Star Hi-tops, a look at the brands that were popular back in the day.
Just about every guy wanted a suit with flecks of white or different colours all over it - just don't ask me why!
Big spiral perms, crimps and peroxide blonde locks weren't just for the ladies!
Sours: https://www.simplyeighties.com/80s-fashion.php
999
1000
1001
1002
1003